AGM Airsoft: Top Products Including Snipers and Rifles
Short for Airsoft Gun Manufacturer, AGM is an airsoft brand that comes from China. They are mostly focused on AEGs and their products vary from replicas of classic rifles (such as M14s and M4s) to more unusual designs that help a player stand out from the crowd.
In terms of quality, AGM Airsoft has something for everybody. You'll find cheap, low-quality rifles that would only be useful for backyard shooting sessions, right next to high-end designs that are known for their aspect and durability.
So, in short, I guess we can say that AGM is an airsoft brand for everyone.
Best AEG Rifle

Best Sniper Rifle

Best SMG

P-FORCE M4RIS CARBINE
L96 AWP SNIPER RIFLE
MP40 METAL REPLICA SMG

x

x

x

x

x

x

x

x

x

x

x

x

x

x

x
Features that Made then Famous
AGM is the weird kid of the group, with an interest for somewhat unusual designs. They do have the standard AEG rifles and machine pistols most brands feature, but they also have unique rifles that will make you proud to own them!
Among the models considered unique, you can find WW2 AEGs (the MP40 or the MP44 rifles) or the well-known and gorgeous British MKII Sten SMG. Not to mention, their catalog also includes more modern designs such as the M4A1 SOCOM RIS carbine AEG!
Key Features
As I already mentioned, the products vary in quality. Still, it's easy to tell if your new airsoft rifle will be reliable by following the price.
For the best products, AGM puts a lot of work and thought in both the internals and the externals, creating durable AEG rifles with high-quality materials and surprisingly good FPS.
Specialties
AGM is specialized in AEG rifles, but their offer also includes pump action shotguns, bolt action spring rifles, parts, and accessories. Overall, AGM is specialized in creating gorgeous rifles that don't require too much maintenance.
Pricing Point
As I already stated, the level of quality varies, and this can be seen in the pricing point. So, you'll find airsoft rifle starting at $50+ but you'll also find designs that sell for $500+. So, it all depends on the type of rifle you want and the available budget.
Best AGM Products
Because their main focus is on AEG rifles, I'll walk you through some of their most-wanted designs, but I'll also include some unique designs (to satisfy the more curious of you).
AEG Rifles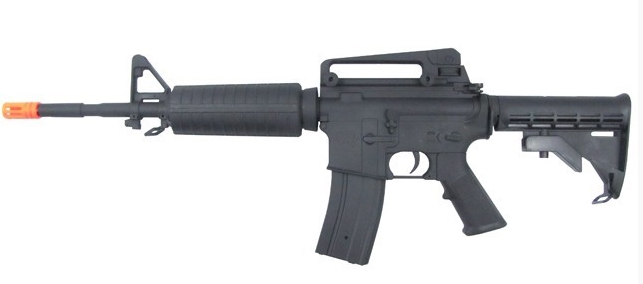 Equipped with a metallic receiver and gearbox (Version 2), this M4A1 Classic Carbine feels realistic in your hands. The AEG rifle comes ready to use right out of the box, with sling loops in the front and rear (so you won't have to carry it at all times).
I love the 4-point retractable stock and the Clamshell handguard that houses the battery (standard 8.4V Mini) and improves your grip. Moreover, the trigger has good sensitivity and the trigger guard is large enough to be used with gloves on.
The rifle shoots at 400 FPS (0.2 BBs) and features a 350 BB high capacity metallic magazine. This means that, even if you drop it, there's little risk of damage! The hi-cap magazine is perfect for this weapon since it features both semi and full auto firing modes.
Moreover, the rifle is delivered with a carry handle that can be removed to expose a metallic top rail system which can be used for accessories such as optics. You'll also find an adjustable hop-up unit that's easy to access and a fixed frontal iron sight.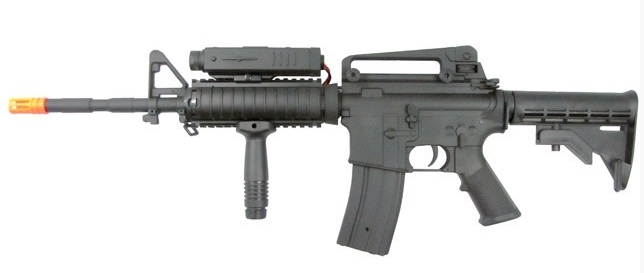 If you're looking for a more powerful CQB rifle, the M4RIS carbine can be a great choice.
Equipped with an adjustable LE Stock and a Version 2 metallic gearbox, the rifle is powerful (400 FPS with .20g BBs) and comes with a PEQ Battery Box. It's also accurate due to the adjustable Hop Up unit which allows users to tweak the BB's direction.
Moreover, the carbine comes with a Picatinny/Weaver RIS system at the top and the bottom of the barrel that offers plenty of space for accessories. For instance, you can mount a scope at the top and a foregrip at the bottom to improve both accuracy and grip.
The rifle comes with a 350 high cap metallic magazine and features a metallic receiver for increased durability. Since it's a full-size replica of the real-steal rifle, it's also nice to hold and gives the game a sense of authenticity that I'm sure you'll love.
Sniper Rifles

The L96 is a popular sniper rifle in real-life situations and is still used by military organizations all around the world.
Now, the L96 offered by AGM looks great and behaves nicely on the field, but it is still a low-cost version of the rifle, so I would only recommend it to beginners. Just like most sniper rifles out there, this is a bolt action design (meaning you have to cock it before each shot), and the bolt feels and sounds quite nice.
The body is made of polymer, but this only makes the rifle lighter and easier to carry when it's time to change position. It also comes with a rail system, situated at the top, so you can install optics, and one at the bottom for a bipod or other accessories.
The magazine will hold 28 to 30 rounds and you have an adjustable dial hop-up unit that I suggest you set before the game starts (it may be difficult to do so while BBs are flying over your head).
As a word of caution, the safety works nicely as it blocks the trigger, but it is in an inconvenient place and can be activated by accident when you cock the bolt.

This is a realistic, full-size M14 spring-powered sniper rifle with lots of power (400 FPS with .12g BBs) and accurate details.
The body is ABS plastic, but the rifle comes with a metal barrel and other several metallic parts, which provides a certain weight to the entire build. Also, the spring is a bit stiff, so it may hurt your hand after a while. However, this brings the experience a little closer to reality.
As you probably imagine, this M14 rifle is not a top-of-the-line design but it is solid and shoots quite accurately due to the rotary hop-up unit, adjustable sights, and high-quality barrel. I find the trigger to be a bit heavy, but once you get used to it, things should go smoother.
I like that the rifle comes with RIS rails (that can be detached) so you can add all sorts of accessories to the top.

If you're just starting in the world of airsoft sniping, the VSR-10 is a nice, low-cost, model.
With an ABS body, a healthy weight (5 lbs.), and solid construction, this bolt action rifle will help you figure out if the role of a sniper is for you.
Now, even though it's not considered a high-end the rifle still has some metallic components (such as the inner and outer barrel, steel bolt and assembly, and trigger box). This creates a solid build and helps the mechanism stay accurate and reliable.
Shooting at 350 FPS (0.20g BBs), the VSR-10 can be improved with accessories (due to the top rail system) and allows users to adjust the BB's trajectory with the hop-up unit. It's also a rifle easy to use due to the low friction bolt, which will reduce any fatigue in the field.
Unique Models

TheMP40 is legendary for its versatility, ease of use, and interesting design. AGM offers a full-scale replica of the submachinegun with a metallic body and foldable stock that goes great in CQB situations.
Equipped with a long metallic magazine that holds 50 rounds, this bad boy can shoot at 330 FPs and can reach up to 140 – 160 feet.
Now, this is an AEG SMG that uses a small type battery (housed at the top, in line with the barrel). Since the battery space is pretty generous, you could go higher and use a 9.4v Nunchuck. However, the gearbox (which looks like a modified Version 5) may not be as resistant with more power.
The MP40 even features a selector switch (which is not something you see too often on WW2 rifles), so you can change in between full and semi auto firing modes.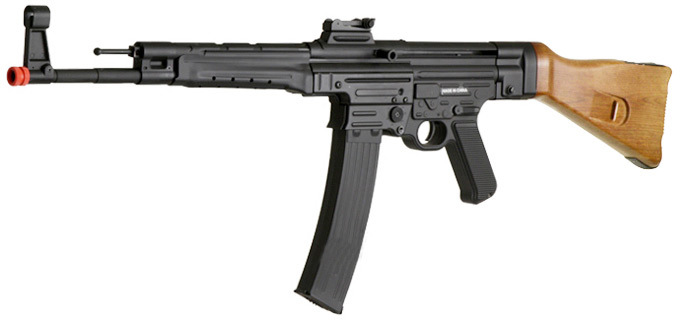 This is a 1:1 scale replica of the WW2 Sturmgewehr MP44 Assault Rifle built with metallic parts and a real wood stock. So, the airsoft rifle will feel and look like the real deal!
It's an AEG rifle, with both semi and full auto firing modes, that can fire up to 440 FPS with 0.2g BBs, at about 100+ feet. The accuracy is reliable right from the box, but you also have an adjustable hop-up unit to tweak it when needed.
Overall, the MP44 featured by AGM is a beautiful design that can complete any airsoft collection and can even be used for reenactment shows.