Best Airsoft Shotguns: The 2022 Close Combat Guide
Looking for the best airsoft shotgun? You've come to the right place. We list and review some of 2022's best airsoft shotguns in our ultimate shotgun guide.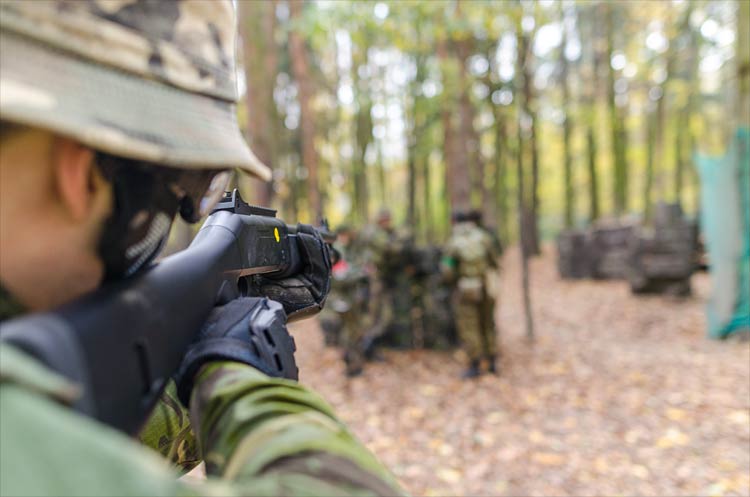 The versions below are fast, powerful, and would satisfy just about anybody regardless of whether you're looking for a gas-powered or spring-powered weapon.
Best Airsoft Shotguns Reviewed
If you're looking for a quick overview, we've created a chart below with our top 3 featured airsoft shotguns
| M56A Double Eagle | JAG Arms Scattergun | M4 AEG: 2 in 1 |
| --- | --- | --- |
| | | |
| Best Overall | More Expensive | 2 in 1 Shotgun |
| 290-310 FPS | 370 FPS | 320 FPS |
| Plastic & metal | Metal based | Plastic & metal |
| 3 separate barrels | 3 and 6 burst fire modes | Rifle & Shotgun Combo |
| Multi-shot spring shotgun | Green gas propellant | Spring pump action |
| Buy Now | Buy Now | Buy Now |
Now that you have been briefed, I want to specify that there are plenty of airsoft shotgun options out there. You'll find these guns at different prices, and while it may be tempting to go low or high, I strongly recommend selecting a middle option. Among the first features you need to consider, I'd like to mention weight, materials (for internal elements and housing), shooting style, and power. The right shotgun can be quite exhilarating in the field and can turn the game in your favor in just a few moves, so do your research!
With this in mind, here are my top options:
The M56A Double Eagle is a multi-shot spring shotgun fed using a replica shell. With each action, the gun loads 3 BBs into 3 separate barrels. The 3 barrel design is effective as it the most accurate way to simultaneously shoot multiple BBs. With a shell capacity of 30 rounds and a velocity of 290-310 feet per second (FPS), this is a sturdy shotgun that is also surprisingly lightweight. A great option for a modest price.
---
The JAG Arms Scattergun uses Green Gas propellant, which makes this pump-action shotgun feel like the real deal. The green gas storage tank holds 120+ rounds and you're able to switch between 6-shot firing and 3-shot firing modes. The gun is metal-based with a shot velocity of 300-330 FPS in burst fire mode and 370 FPS in single fire mode.
---
The Double Eagle M4 is a 2-in-1 M4 airsoft rifle, with an adjustable under-barrel shotgun, making it a unique and fun combination. The rifle aspect has both semi-auto and fully automatic firing modes, a magazine capacity of 280 BBs and space to add accessories such as optics (find your best option in my guide for the best scopes for airsoft).
The pump-action shotgun has a detachable magazine and adjustable hop-up. Also firing at 320 FPS, this spring-powered shotgun gives you plenty of options on the battlefield.
---
The CYMA P799A is a pump-action riot style shotgun, making it a cool addition to your airsoft weapon collection. BBs can be added directly into a reservoir in the shotgun receiver instead of individual shotgun shells. When a BB is loaded into the shotgun, it can be fired at roughly 300 FPS (50 BBs can be loaded at a time).
A functional laser pointer and scope are also included if you'd like the option to use them.
---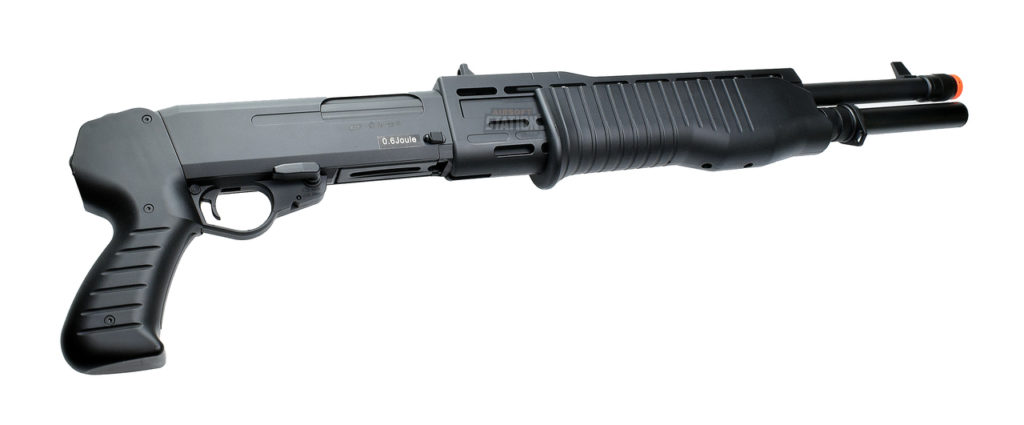 The SPAS-12 is quite a scary shotgun (if you're not holding it) because it's easy to use, it fires at high speed, and it has three inner barrels (in translation, it can shoot BBs in bursts of three). It's also featuring a realistic look, and feels heavy in your hands – just like a real shotgun would feel.    
The body is designed with ABS plastic and metal parts (the outer barrel, trigger, safety) to give it a realistic feel and make it more durable, and the spring pump action is just perfect for such an airsoft gun. You'll feel like a true member of the Special Forces each time you cock it (and the sound is amazing)!
The shotgun comes equipped with replica shells magazines (30 BBs in each), which makes the loading simpler (you don't have to deal with a magazine). It's easy to keep the shells ready in your pocket and simply pop the empty ones out. The loading is done using the shell location, guarded by a door that's easy to open; you simply pull a lever and the door will pop open releasing the empty shell. The shells are housed directly underneath the outer barrel, which simplifies the process.
I love the pistol grip, which makes holding the gun quite easy even after several hours of gameplay, but I also enjoyed the fact that you can wear it on a sling (the mounts are durable and you don't have to be too careful with them).  
Another aspect that made me decide on this design as being the best overall, is the range. Considering the price and type of weapon, I managed to take accurate shots at about 30m, which is quite nice!
---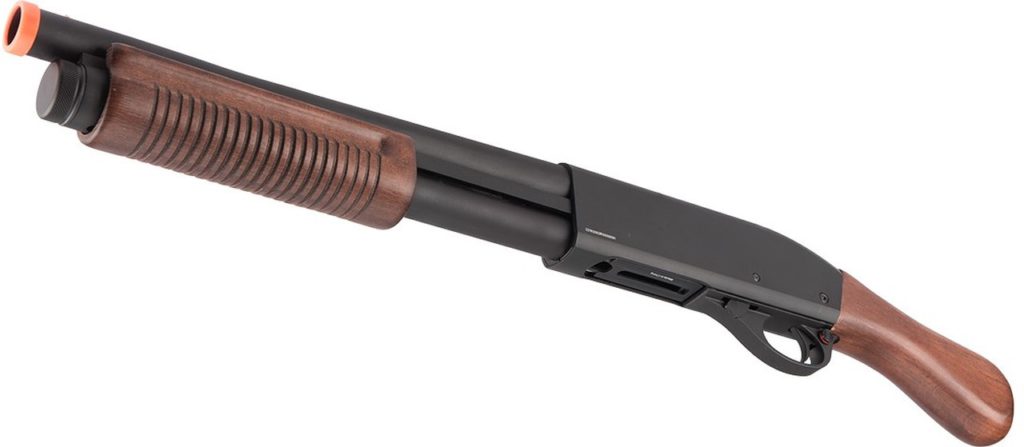 If you're preparing for a CQB scenario, the M870 Breacher is a fantastic addition to your arsenal! This sawed-off Green Gas shotgun is perfect for tight spaces and its action makes you feel like a tiny airsoft god!
First, it looks amazing! The full metal body (trigger, receiver, outer barrel assembly, and trigger guard) and polymer furniture provide the gun with the right look and weight for such an occasion. Furthermore, the solid build makes the operation of the gun as smooth as butter. Nothing rattles and there are no creeks (specific to ABS plastic guns), proving this is a shotgun that will stick with you for years to come!
Another cool thing about the M870 is the range – the high speed (300 FPS with 0.20g BBs) and accuracy make you a fantastic opponent even though you're not as close as you'd like. Also, the 30rds magazine should suffice as you can do a 3/6 round spray with each trigger pull. Overall, the shotgun is really nice to use, but it is quite on the heavy side, so you should be careful with it if you're a beginner. It does come equipped with a rubber butt pad that allows you to secure the shotgun on your shoulder when you're aiming, which is nice. 
---

If your budget is a bit bigger and you'd like something more powerful and that features a solid build, the Super 90 from Tokyo Marui may be a fantastic choice. It is, after all, the classic shotgun that's showcased in movies and video games!
The body is made from high-grade polymer, but the extended barrel is full metal, making the shotgun light but keeping it durable. Also, the fixed full stock provides the player with a solid non-slip rubberized butt-pad that goes against the shoulder to improve the aim. In addition, the pistol grip and front grip are textured, making the classic cocking move easy even if you're wearing gloves. 
I like that the shotgun can target longer ranges without losing accuracy (due to the fixed front and rear sights installed on the top rail and the fixed hop-up unit). In fact, even though it is a spring-powered design, it is quite powerful and can be used for quick shooting. 
The Super 90 accepts a 30-round shell-type magazine, which means you'll get to shoot ten times before you need to refill (this is a tri-shot shotgun). However, at 285 FPS (with 0.2g BBs). 
---
Wrap Up
I hope I managed to offer a wide range of options, for both beginner and advanced players, but in most cases, the shotgun is more of a fantasy weapon. After all, who doesn't want to do the legendary move where you cock your gun while you hold it vertically, with just one hand?
All I want to say, in the end, is to first make sure why you want a shotgun, and only then decide how much you want to invest in it.
Photo credit for lead image: Photo by Lukas from Pexels