6 Best Beginner Airsoft Guns 2021 [Reviews & Useful Tips]
Even though it's been a while since I could call myself a beginner, I still remember how it's like. I also remember that the first airsoft guns you use can make it or break it for someone who is just starting with this sport. 
From the start, I want to tell you that the guns I selected for this guide are not the cheapest. In fact, some players may even consider them a bit pricey. However, if you truly want to experience airsoft to its full potential, you need a durable gun that's also accurate and reliable. 
A cheap airsoft gun can (and usually does) break apart on the field disappointing the player and providing them with subpar gaming experience. So, to make sure you get the real taste of airsoft, I made sure to choose quality guns that can be improved upon should you choose to move forward.
On a side note, if you want something that's a bit more advanced, I recommend checking my best airsoft guns article. 
Returning to today's topic, I divided my gun selection into rifles and pistols (or sidearms). This way, you can choose both in one try. 
Best Beginner Airsoft Rifles

The AK-47 is a classic wherever you go and this bad boy is very beginner-friendly. 
It is made from a polymer material that's quite durable (in case you drop it or mishandle it) and lightweight. It's also affordable, so you don't have to invest too much before you know if you're into the game or not. 
I like the textured pistol grip with the large trigger guard and the folding skeleton stock that changes the length of the rifle as needed. This means you can use it in a CQB, with the stock folded, and in a long-range scenario, with the stock extended. 
The magazine is standard AK-47 and holds up to 450 BBs (perfect for full auto firing modes). In addition, the rifle has two RIS rails, one at the top of the barrel and one underneath. This means you can add accessories such as scopes, red dot sights, or handguards to improve your aim and handling of the rifle. It even comes with a folding AK foregrip and has an adjustable rear sight and a fixed front one. 
Overall, this is a nice entry-level AEG  that shoots at 350 FPS (0.20g BBs) in semi and full-auto modes. It comes ready to use from the box (battery included) and it doesn't need any accessories (unless you want to add some). It is reliable, lightweight, and easy to maneuver, which is why I love to recommend it to beginners. 
Why Is This a Good Fit for Beginners?
Large trigger guard & textured pistol grip

Folding handgrip & stock

High capacity magazine

Shoots in semi and full-auto modes

Looks really cool 
---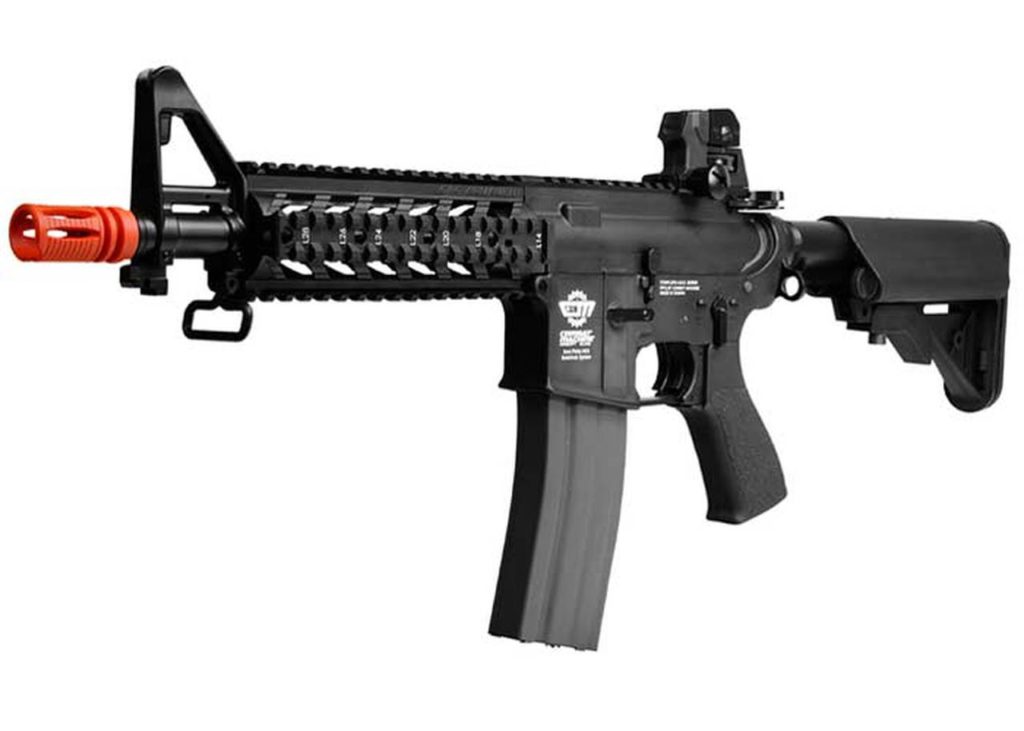 As most beginner airsoft guns, this Raider 16 M4 rifle has an ABS durable body. This makes the rifle light and easy to maneuver, but it's also resistant to scratches and bumps (to my surprise, metallic bodies are easily damaged). 
Furthermore, it comes with a 9.6v 1600 mAh battery and battery charger (if you didn't realize it yet, I am talking about an AEG). Inside, there is a Ver. 2 metal gearbox, and aluminum inner barrel, a plastic adjustable hop-up, and cold-resistant green bucking. 
This is a classic M4 format, with handrail, pistol grip, and retractable crane stock (it has up to 6 different positions). Also, the 7-inch quad rail that extends over the upper receiver is great for accessories. However, due to the rear adjustable sight and the fixed front one, you may not need any. 
The metal magazine is humongous (450 round high capacity) and the rifle can shoot at 330-350 FPS and a range up to about 150 ft. In my book, this is badass enough for a beginner!
Why Is This a Good Fit for Beginners?
Collapsible crane stock

Adjustable rear sight

Quad rail for accessories 

The platform is lightweight & durable

Extremely easy to handle

Metallic gearbox that withstands a few rough rides
---

With a fixed stock and a long barrel, the M62 is perfect for a beginner sniper. While I always recommend a CQB scenario if you're just starting in airsoft, this shouldn't stop you if you truly want to be a sniper. As such, this spring-powered rifle is just right!
It's affordable, it's lightweight, and it doesn't require an external power source. It also has an adjustable cheek plate and buttstock (to add a bit of extra dimension) and there's a metallic rail at the top for your favorite scope. 
True, it won't feel like the real deal, but I like the bolt assembly and the way you have to reload after every shot. It's also quite powerful at 470 to 480 FPS (with 0.20g BBs) and it shoots accurately in long-range scenarios. 
Why Is This a Good Fit for Beginners?
Lightweight but sturdy

Good long-range accuracy

It is spring-powered

You can fit a scope at the top
---
Best Beginner Airsoft Pistols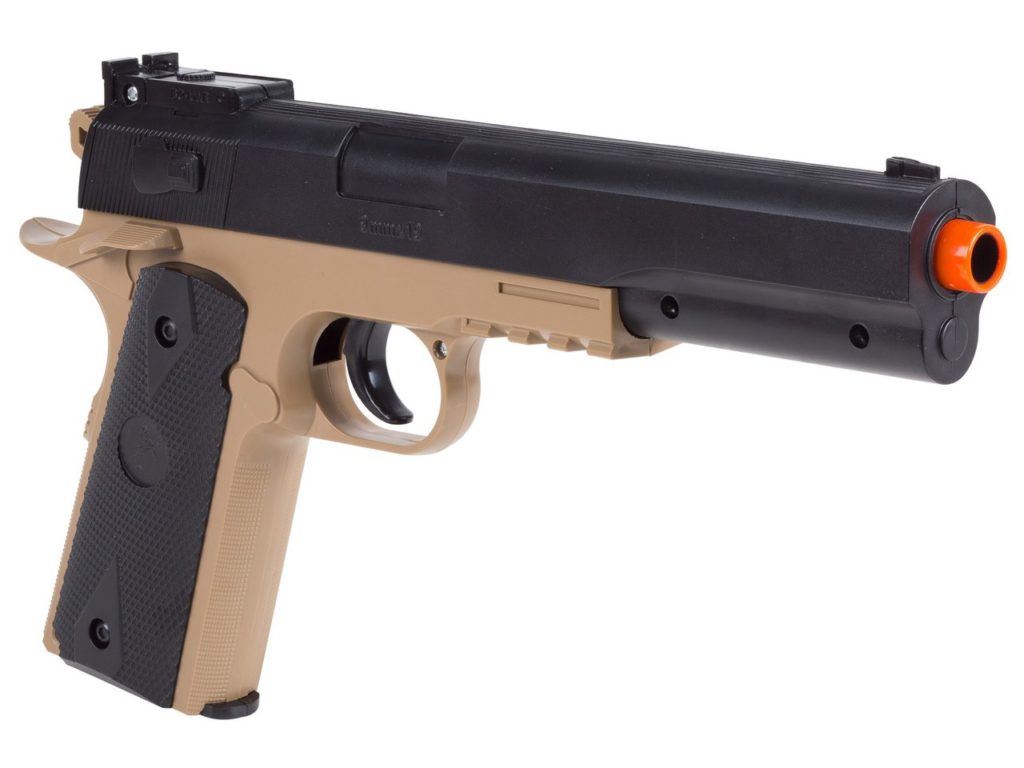 Who wouldn't like to have the chance to hold a Colt in their hands? The brand is legendary and we see it referred to in movies and modern culture quite often. 
While this is not the real deal, and it's a spring-powered pistol (no blowback action), it is perfect for target practice and first-timers. It is lightweight (reinforced polymer body and slide), it has a large trigger guard, fixed sights, and the grip is textured. 
It also has a 13-rounds magazine, it shoots at 345 FPS, and it doesn't need any external power source. However, this means you'll have to manually cock it after each shot (no automatic or semi-automatic fire).
It also has a Weaver/Picatinny accessory mount under the barrel, in front of the trigger guard. Here, you can mount a laser pointer (to help with the aim) or a flashlight. The pistol will look cooler and you'll feel like a true superhero, on a mission to catch the bad guys. 
Why Is This a Good Fit for Beginners?
Spring-powered mechanism

It is best for plinking and target practice

Lightweight polymer body

It can be improved with a few accessories
---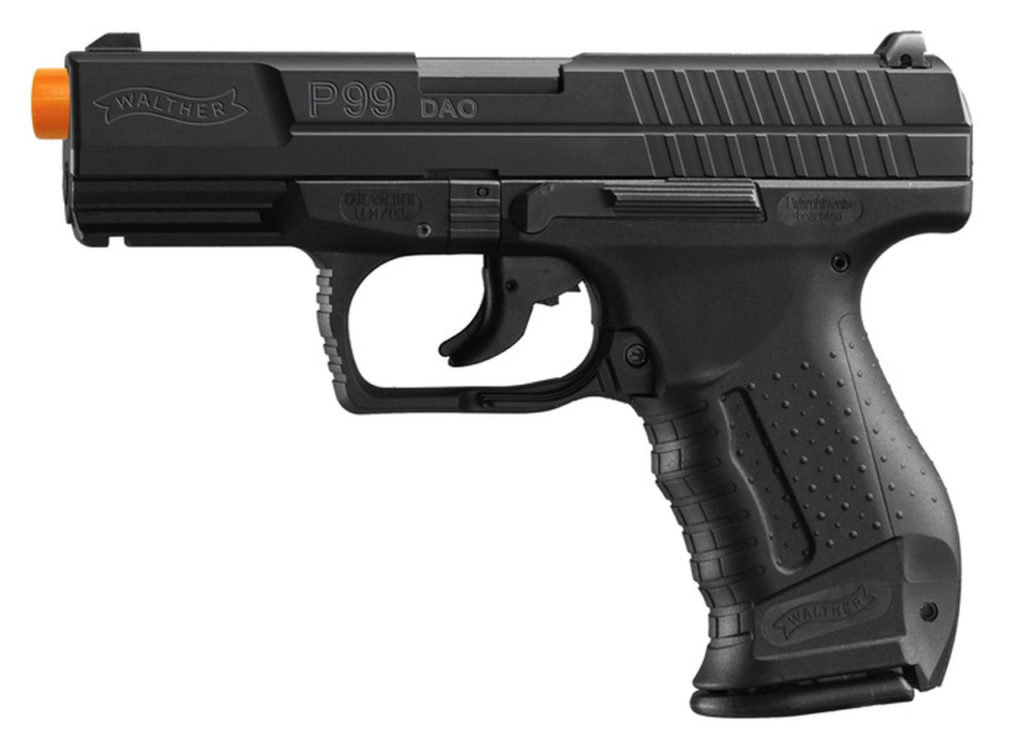 If you're looking for something more exciting, I recommend the P99 GBB pistol. It's a replica of the real-steel Walther P99 that most of us first saw in James Bond movies, and it is fueled using CO2 gas cartridges. 
It also has a blowback action, which means you'll feel a bit of recoil with each shot. It's not as powerful as with real weapons, but it is a nice addition to the experience. 
The P99 is a semi-automatic, with a double-action trigger. This means that you can shoot one BB every time you squeeze the trigger, without having to manually cock it. Of course, once the magazine is empty (it holds 15 BBs), you'll have to recharge. Luckily, this pistol is delivered with two magazines, so you can swap. This way, you reduce the chance that someone will catch you while re-loading in the middle of the action.
You also have to pay attention to the CO2 level – the P99 uses a single 12-gram CO2 cartridge that holds for a few reloading rounds, but you need to change it when the pistol starts to lose range and accuracy. 
Under the right conditions (CO2 pistols are finicky with temperature changes), this pistol can shoot at about 380 FPS (0.20g BBs) and has a 50ft accuracy range. While it doesn't have a RIS rail for accessories, it does have a textured rubberized grip and fixed iron sights on the metallic slide. 
Why Is This a Good Fit for Beginners?
Blowback pistol with CO2 fuel (for the more advanced beginners)

Realistic weight and feel

It comes with two magazines

It is accurate and can shoot at about 50ft
---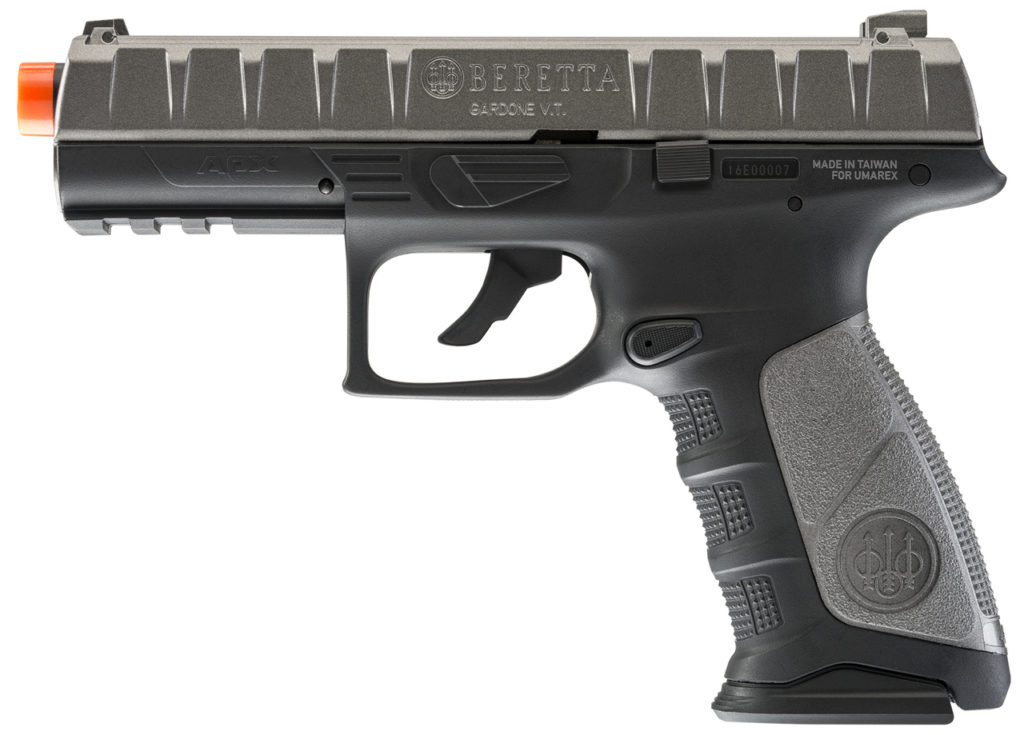 The APX airsoft pistol from Beretta is a bit bigger than I'd like, for a beginner, but it's a sturdy and reliable piece. In addition, it is a loyal replica of the real-steel version and has a metallic slide with a polymer lower frame. 
Furthermore, it has a functional safety and slide catch, which increases the authenticity of the experience. Still, it may take a bit more to get used to it, as a beginner. On the other hand, it is a semi-automatic (no need to cock it) and you can shoot until the magazine runs out (310 FPS with 0.20g BBs). Since it only holds 15BBs it will run out pretty fast if you don't pace yourself. 
You will also need to pay attention to your CO2 consumption. The APX uses 12g non-threaded CO2 cartridges (sold separately).  
Why Is This a Good Fit for Beginners?
It's a semi-automatic

It is easy to hold in your hands (sturdy build)

There is a bit of a blowback

The CO2 cartridge is located in the pistol grip
---
Wrap Up
The most important thing to know, as a beginner, is that you don't need a fancy airsoft weapon. Still, you need a reliable one that is accurate and holds its own in the field. 
When it comes to the type of weapon, I like to recommend AEGs because they are easier to handle and don't require that much maneuvering. Spring-powered weapons are equally great, but they can't sustain automatic or semi-automatic fire. This may interfere with your concentration, which may lead to you being hit too fast in the game. 
Of course, if you feel bold, you can always check my reviews on shotguns – these are truly fun to handle in the field! Still, I'd recommend starting with a regular AEG rifle with a spring-powered pistol before you move onto shotguns.