Top 5 Best Tactical Vests for 2022
The number one rule of airsoft is good protection gear! If you don't wear
protective eyewear or a full-face mask
, most fields won't even take a second look before sending you home. But there's another piece of protective wear that should be mandatory and that is the tactical vest. Below are our best options for the new year.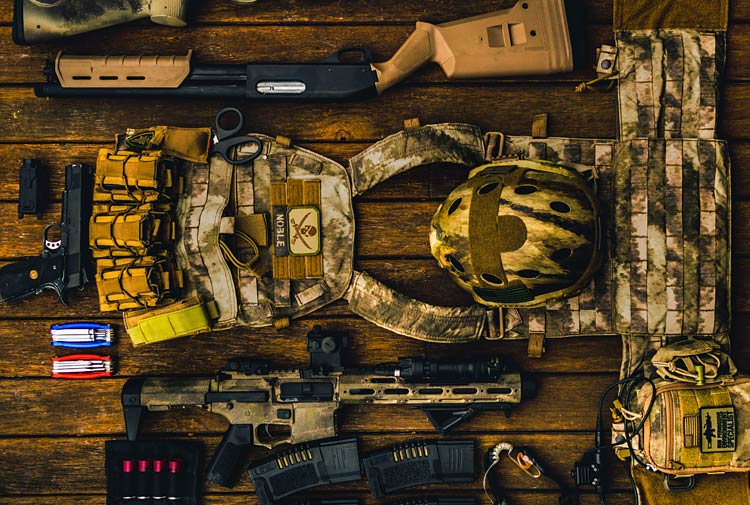 ---
Besides the protection factor (which makes a huge difference) you also have extra carrying space. This means you can pack an extra magazine, battery, or a speed loader without worrying you'll lose them at the first bump. Not to mention, if your rifle has a sling, a vest will protect your shoulder from any chafing.
Finally, a vest looks cool and puts you in fighting mode. So, there's absolutely no reason why you should ignore getting one.
How to Choose the Best Airsoft Vest
Now that you see the value of an airsoft vest, let's talk about the features that matter. This is important to make sure you end up with the right gear for your needs, without breaking the bank.
Durability
This is a piece of equipment that should be with you for years to come, so check for quality materials. But you should also check the craftsmanship (how the vest is sewn if there are any reinforcements and the type of padding it allows).
The material and edges shouldn't tear easily (valid especially for outdoor players) and it should resist to punctures or shredding under normal game conditions. My recommendation is to look for vests created by renowned brands – they may be a bit more expensive, but this is an investment in durability.
Design
First, the vest should be a good fit for you. This means it shouldn't be too tight or too loose; it should fit you like a glove and leave lots of room for movement. Second, the material should be ventilated, especially if you play during summer.
There are three types of airsoft vests:
Plate Carrier – as the name says, this vest can be fitted with a protective plate in the front and back. However, since you're not dealing with real bullets, the plate won't be as heavy as the ones used by real tactical teams. Another advantage of a plate carrier is the O.L.L.E. webbing, which allows the wearer to install pouches wherever they want.
Cross draw – this may be the most common design used by airsofters because it's less expensive than a plate carrier and easier to remove or put on (due to the zipper in front). The vest comes with pouches already sewn onto the material, so you don't have to purchase additional ones.
Harness & Battle Belt: mostly used for carrying extra stuff, these vests can be used over ghillie suits, which makes them ideal for snipers. They usually have M.O.L.L.E. webbing to attach extra pouches and have straps to distribute the weight to the shoulders.
Color
The color of your best should fit the type of airsoft you play. If you're mostly outside, a woodland or tan design may be a better fit. On the other hand, for inside settings, a SWAT-style assault vest may make more sense.
The good news is that you have a wide range of colors from which to choose.
Space for Accessories
Vests should allow you to carry extra magazines, batteries, scopes, and other accessories that may come in handy while in the field. That's why all producers focus on creating as many pouches (or space for pouches) as possible.
Now, a quality vest should also provide a secure way to keep the pouches closed, so check for zippers and/Velcro.
Know Your Needs
The vest should be selected according to your role on the field, so it covers your carrying needs. For instance, if you're in a CQB situation and you know you may be under heavy fire, a plate carrier makes sense. On the other hand, if you're a sniper, a harness and belt are a better fit.
Price
A good airsoft vest doesn't have to be a huge financial effort! You can get all the features mentioned above and still have something left for extra pouches (if the vest has M.O.L.L.E. webbing). However, it shouldn't be extremely cheap either so have a look at the designs we selected below.
Best 5 Airsoft Vests
---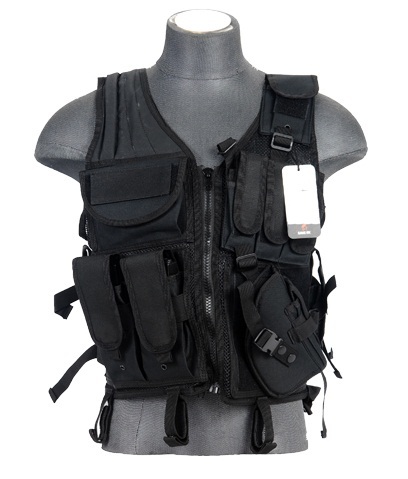 Pros
600D polyester (very durable & breathable)
Pouches for AK/AR and pistol magazines
O.L.L.E. webbing on the bag for extra pouches
Included tactical belt
Great price
Cons
The black color doesn't go well in outdoors settings
The tactical belt is a bit difficult to adjust
The vest is easy to wear and fits most body types. It's also easy to put on and remove, due to the front zipper and offers plenty of storage space due to the pouches that are sewn into it. What I like most about this vest is the holster built on the side of the vest. This way, you don't have to worry about adding extra equipment for your sidearm (check our best airsoft pistol guide to find the best one for your needs).
---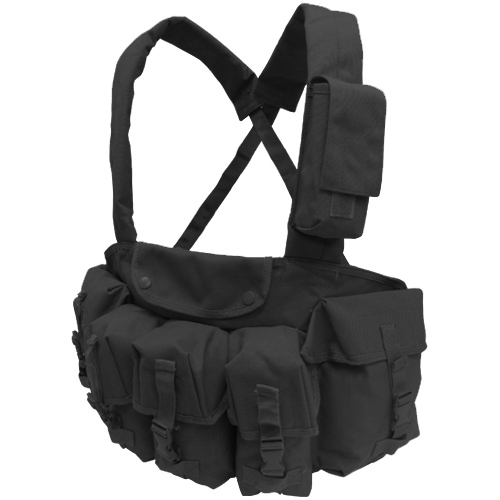 Pros
Adjustable fit
Three M4/M16 mag pouches (each can accept 2 magazines)
2 large utility pouches
1 large internal pocket that can be used to fit a map or other supplies
Secure pouches
Cons
Doesn't protect your entire torso
For those of you looking for something in the low-budget section, this chest rig may be perfect. While you can't consider this adequate protective gear, it does a great job at increasing your storage capacity. The padded straps are adjustable and distribute the weight around the shoulders, so you can play for hours without hurting your lower back.
---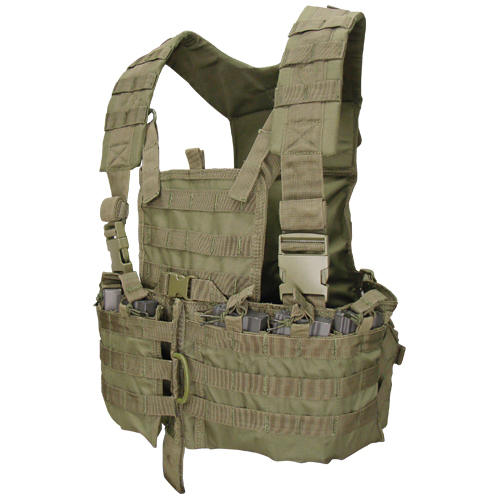 Pros
Easy to adjust to fit almost anyone
Strong straps
High-quality material that allows the skin to breathe
Lots of room for more accessories
Cons
Mag pouches don't have a closing system
You have to purchase extra pouches
This is the perfect design for airsofters who want something lighter and breathable. The material is durable, and the vest is equipped with MOLLE webbing for extra pouches (if you feel you need more). By default, you get 6 pouches for M4 magazines, 2 internal mesh pockets, and a built-in hydration carrier that comes in handy during long sessions.
I also like the padded shoulder straps and the adjustment possibilities. Of course, we shouldn't forget about the adjustable chest platform (which can be removed).
---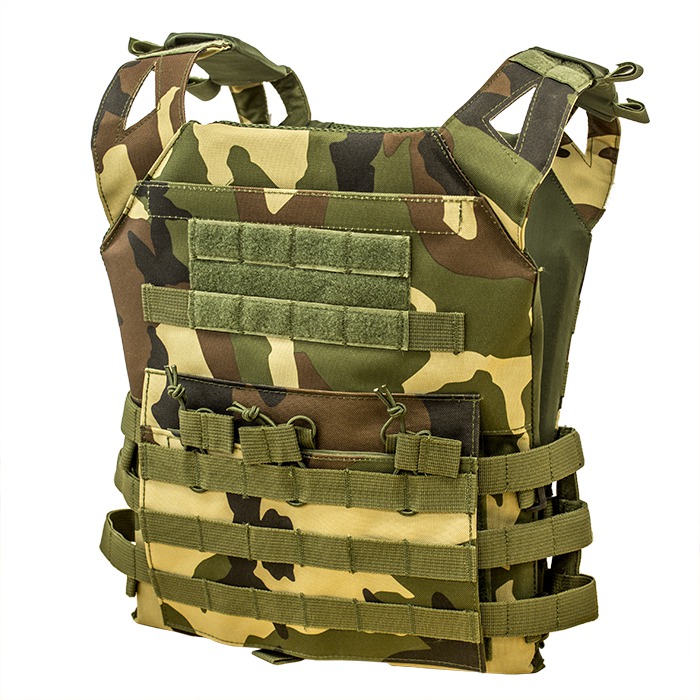 Pros
Fantastic protection rig
Great price
Can fit most body types
Lightweight and easy to use in outdoor games
Lots of extra storage space
Cons
You'll need to buy additional pouches for more storage
This is one serious protection rig that comes with lots of M.O.L.L.E. webbing for extra pouches (which you'll have to buy) and three built-in pouches for standard M4 magazines. The vest embraces your body in a nice fitting, due to the many straps that can be adjusted as needed. Also, there is one larger pouch, for bigger items, and hydration tabs.
In front, you also get Velcro mounting options (for name tags and other identification elements). The shoulder straps are designed to support weight without digging into your skin, which is a very nice touch.
Finally, the color is perfect for outdoor environments and you can wear this vest during winter or summer due to its high-end breathable system.
---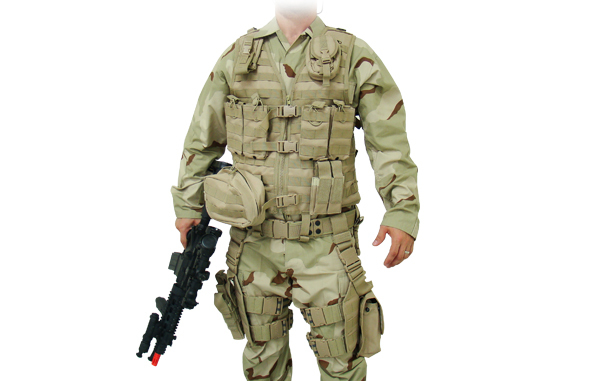 Pros
Extremely well-equipped
Protects the back and the front
Easy to adjust to your needs
Comes in different colors
Cons
A bit expensive for the regular airsofter
It's a bit of overkill for anyone playing casually
For those of you who want to take airsoft at a whole new level, UTG comes with a complete rig that features a tactical vest with M.O.L.L.E. webbing, pouch for your phone or GPS, pouch for a flashlight, pouches for magazines, utility pouch, a duty belt, holsters for each leg, and more.
Overall, this vest ensures your protection and provides the perfect equipment for accessories and all the tools you might need during a long gaming session.
Wrap Up
As you can see, vests aren't just for protecting your torso, but this should be their first purpose. Even when players don't use high-powered airsoft guns, a BB shot from up close can break the skin or leave a bruise. So, it's better to choose the best vest than to risk your skin's integrity!
Lead photo by jan abellan on Unsplash.