Cybergun: One of the Best Airsoft Suppliers
Cybergun is well-known in the airsoft market as they sell a wide range of airsoft weapons (replicas of real steel weapons and licensed pistols and rifles) and parts.
It's important to know that they do not manufacture the weapons themselves, they just apply the license and sell pieces manufactured by other airsoft companies (basically, the same technique used by Umarex and other similar brands). Some players are not exactly thrilled about this practice, but they have reliable weapons and even hold unique licenses, so I find them quite interesting.
For now, they hold over 20 licenses, amongst which you'll find Desert Eagle, Kalashnikov, FN Herstal, or Spartan.
Short History
The story of Cybergun started in 1993, with two French partners who founded AIR SOFT GUNS. The company started with dummy pistols that used 6mm plastic balls as ammunition, but they soon realized that it's best to create replicas of real steel weapons, bearing the real license.
This is how they became partners with Smith & Wesson (in 1997) and other gun producers such as Colt, Desert Eagle, or Sig Sauer.
In 1999, the company became Cybergun and entered the US market, where their products became popular extremely fast. They also developed in other regions such as Eastern Europe and Japan. By 2004, the company opens its first brick and mortar stores in the US.
Today, Cybergun is one of the biggest airsoft weapons suppliers in the US and several markets in the world. Their products have a wide audience, with designs for both beginners and veterans.
Features that Made Them Famous
Cybergun is famous for the licenses it holds, especially considering the fact that they can be the only supplier for some of them (the FN Herstal for instance).
Key Features
The weapons they commercialize are reliable, feature a good design, and are affordable for a wide range of players.
Specialties
Cybergun mostly sells AEG rifles, pistols (spring and GBBs), and parts.
Pricing Point
As I already mentioned, anyone can find an airsoft weapon on the Cybergun offer. Their products are diverse in both complexity and design, and the pricing point starts from about $30 (for spring pistols) and goes up to $300+ for advanced models.
Trending Cybergun Products
Since their most popular designs are pistols and rifles, I will go through several designs that most players would choose.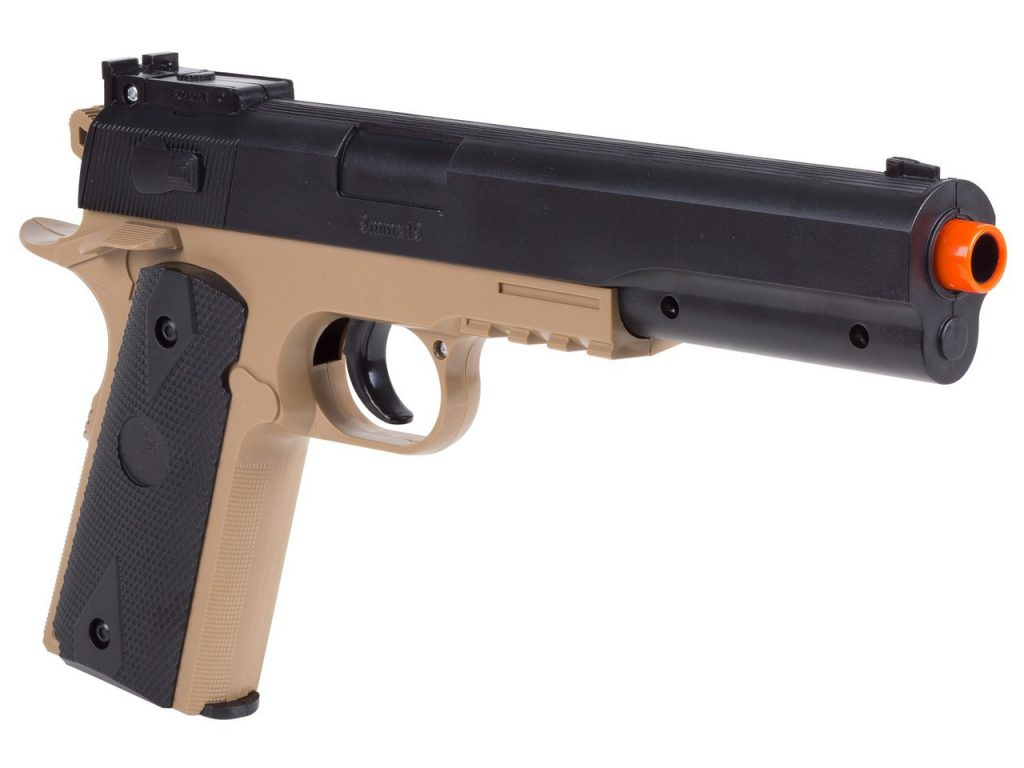 This is a lightweight (1.2 lbs.) and simple pistol that gets the job done without requiring any special attention from the player. I consider it a fantastic sidearm because it's easy to tuck in a regular holster and it can shoot at about 345 FPS. It's also quite accurate and you have control over it due to the adjustable hop-up system.
I also like the 13-round magazine, which kind of makes you want to make each shot count (especially since the pistol needs to be manually cocked for each round). Furthermore, the grip is rugged and fits nicely in your hand, while the trigger guard is large enough to use the pistol with gloves.
Finally, the 20mm Weaver/Picatinny rail fitted in front of the trigger is great for mounting accessories such as a laser or a flashlight. Overall, the Colt 1911 from Cybergun is an ideal sidearm and a fantastic first pistol for beginners!
Cybergun is quite famous for its real-looking and reliable spring pistols, and the Desert Eagle .44 Magnum is definitely one to have in your collection!
The pistol fits a regular holster and has a drop-free magazine, it is lightweight and doesn't slip from your hands due to the texturized grip. The trigger guard is large, and the slider is easy to grab and pull back.
Overall, the design is simple and sleek, and even though it doesn't have any rails for accessories, it does come with iron sights. The pistol is accurate and powerful for most airsoft fields (260 FPS with .12 BBs).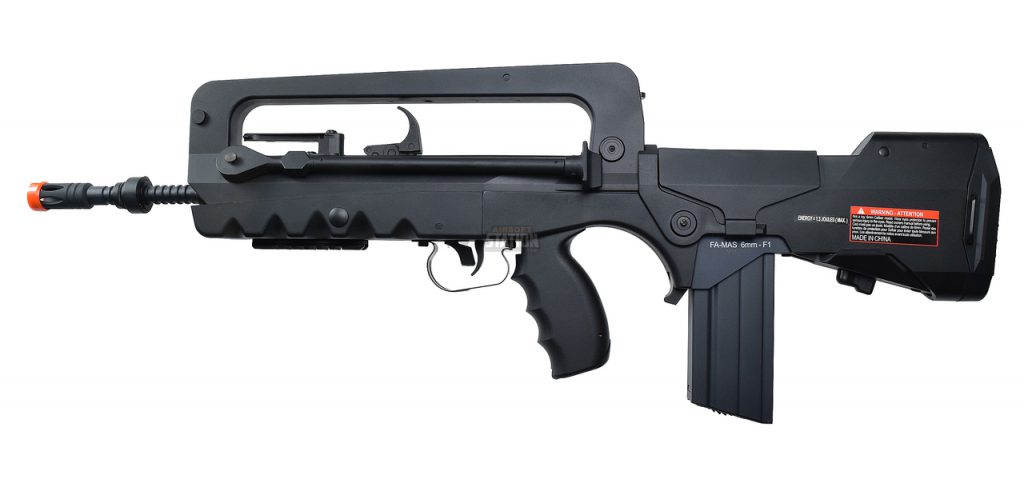 The FAMAS AEG from Cybergun is a replica of the real steel version (the latest FAMAS F1 series) and features a full-length barrel packed in a compact design that can be effective in CQB situations (basically a bullpup design).
The real steel version of the rifle was used by the French military on the field, and it was quite popular, specifically for the unique and ingenious design.
But the rifle has other cool features such as the grenade support mock APAV-40 adjustment lug for mock APAV-40 grenades or the support for mock bayonets. The rifle comes with a foldable bipod, which can be easily deployed whenever you need to hit a long-range target.
I'm sure you already noticed the carry handle that covers the top side of the gun. This one's purpose is twofold: as a support for multiple sets of sights which can be adjusted for wind and as support for an aftermarket Weaver/Picatinny rail that offers a lot more space for all sorts of accessories.
The handguard is solid and can be used as a storage battery compartment (it holds Nunchucks and brick style batteries) and sports a Picatinny rail for accessories. I also like the huge trigger guard, which gives you access to the trigger even if you're wearing gloves, and the dual-function safety which blocks the trigger to avoid any accidental discharge.
The 300-round high-cap metal magazine is located behind the pistol grip (which can be used for storage as well) and the rifle is equipped with an adjustable hop-up dial located under the cheek rest. Finally, the rifle is powerful (385 FPS), features a 475mm inner barrel, and depending on the battery, it can support a 650-750 BBs per minute Rate of Fire.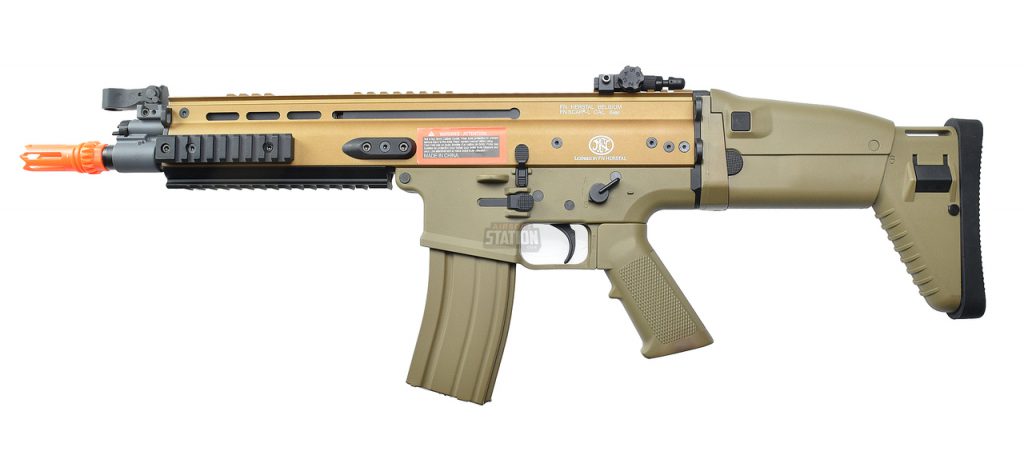 This is a great CQB rifle that can be used in both indoor and outdoor settings. With a rugged design, the gun features both metal (upper receiver) and polymer parts (reinforced lower receiver, and more), which make it a lot of fun to hold and use.
The upper receiver is fitted with a 20mm Picatinny/Weaver rail for accessories such as optics, but you'll also notice the integrated front and rear (this one is removable) flip up sights. Paired with the adjustable hop-up system, the SCAR-L rifle is accurate right out of the box.
To make it easy to use for any player, the manufacturer included ambidextrous fire selector, magazine release, and charging handle. Also, the stock can be adjusted in six different positions and doubles as a battery compartment.
On the inside, you'll find a full metal Version 2 gearbox which can be easily upgraded using aftermarket parts. This coupled with the 8.4. 1600 mAh battery powers the 350-375 FPS muzzle velocity and 100+ feet range!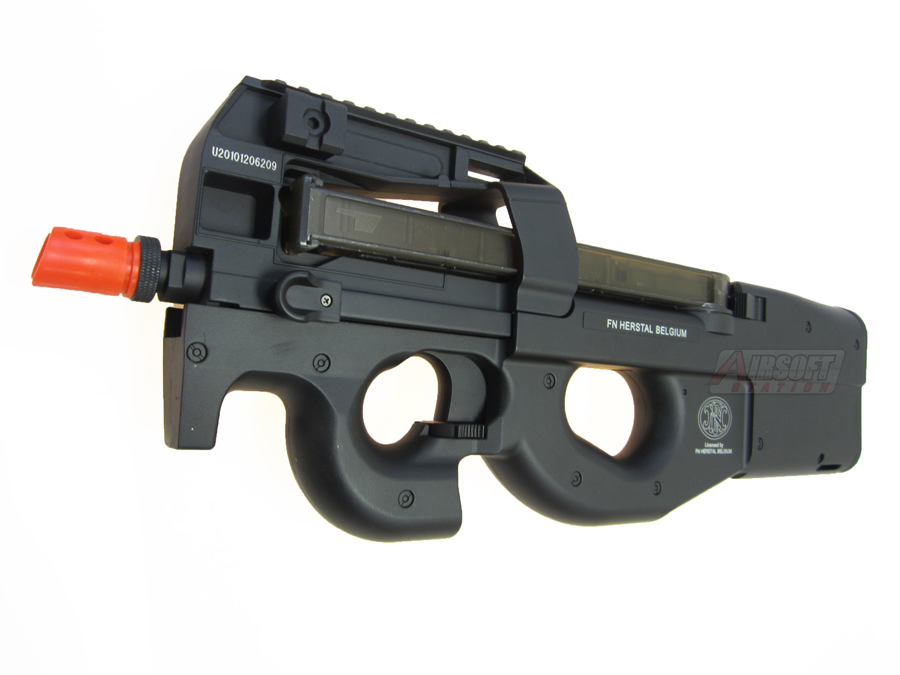 This P90 rifle comes with beautiful FN Herstal trademarks and stocky, yet highly effective, Bullpup design. Due to these features, the rifle can be used in both CQB and long-range shooting, without compromising on quality or requiring the players to carry heavy accessories.
The P90 is lightweight, has a full-sized top rail for accessories such as optics, and mini side rails for smaller accessories such as lasers or flashlights. Overall, the rifle is powerful (390 FPS), accurate (adjustable hop-up system), and can fire in full and semi-auto modes.
Now, since the price tag is quite affordable, the P90 from Cybergun can be a fantastic first rifle for beginners. However, the mid-cap magazine (only 68 rounds) may be a bit of a nuisance, especially considering the rapid ROF.