G&P Airsoft – Key Features & Best Products
Some players call them the Ferrari of AEGs while others may try to convince you their airsoft guns are just a bit too expensive. Regardless, they are one of the oldest players in the game and their products look amazing.
G&P started off as a combat light provider for military and law enforcement agencies, and slowly dove into airsoft and military simulation gadgets and guns. Nowadays they are designing some of the sexiest looking beasts in the airsoft field, and their quality process is legendary. According to G&P, each AEG rifle is assembled by hand and fine-tuned by specialists to meet their quality demands.
Short History of G&P's Airsoft Guns
G&P started in Hong Kong, in 1995, when they used to produce military equipment and accessories. Their flashlights were used by the police and military, and even nowadays are recognized as being some of the brightest and highest in build quality in the world.
Besides their world-famous AEGs, G&P is also great at producing accessories, conversion kits, upgraded parts, and more on this note. They're also invested in creating new airsoft guns, like their version of the SVD Dragunov – a GBB rifle they introduced in 2002, and the G&P SP System series.
Nowadays, they are well-established in China, and almost every airsoft player all over the world knows their brand. Their location is ideal for creating high-quality products at affordable prices, but you shouldn't expect to find cheap weapons in their offer. Airsoft guns that look and feel as good as the ones produced by G&P don't come at very low prices!
Features that Made Them Famous
They are known for the gorgeous design of their products, especially their AEGs. G&P uses CNC precision machining and real-steel finish for most of their airsoft guns, and they try to emulate real-steel weapons. However, there are some complaints about the quality of their internals, but this can happen to any brand.
Key Features
Gorgeous airsoft designs
Sturdy body
Various AEG models
Great quality control system
Somewhat low-quality internals
Specialties
An impressive collection of M4 designs
AEGs
Grenade launchers
Accessories & parts
Pricing Point
When it comes to rifles, G&P prices start at around $200 and can go as high as to $700. However, the most popular designs are in between $300 and $450.
Trending G&P Products
M4 AEG Rifles
G&P V5 Airsoft M4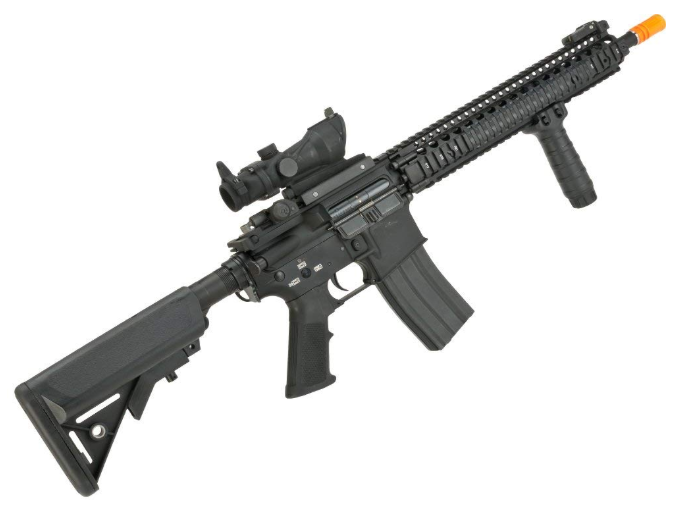 This M4 version comes ready to use from the box, but you will have to buy the battery and other accessories (only the magazine is included). Overall, the design is highly realistic, offers plenty of space for accessories (due to the extended rail system) and has a rear and front grip so it's easy to maneuver.
The stock is collapsible (7 positions) and the receiver, barrel assembly, and railed handguard are metallic. Because of its build, it feels solid in your hands and has a healthy weight to it (3kg), but it can be a bit difficult to use in long missions (especially if you're not used to this type of rifles). But, if you want, you can fit a sling to it (it has an ambidextrous sling point in the rear).
The rifle shoots at about 400 FPS, is powered by a Version 2 reinforced fully-metallic gearbox (upgradeable) and comes with a 130 round metallic mid-cap magazine. It works with 9.6v Small Butterfly Type or 7.4 LiPo (recommended).
G&P M4 Carbine Airsoft AEG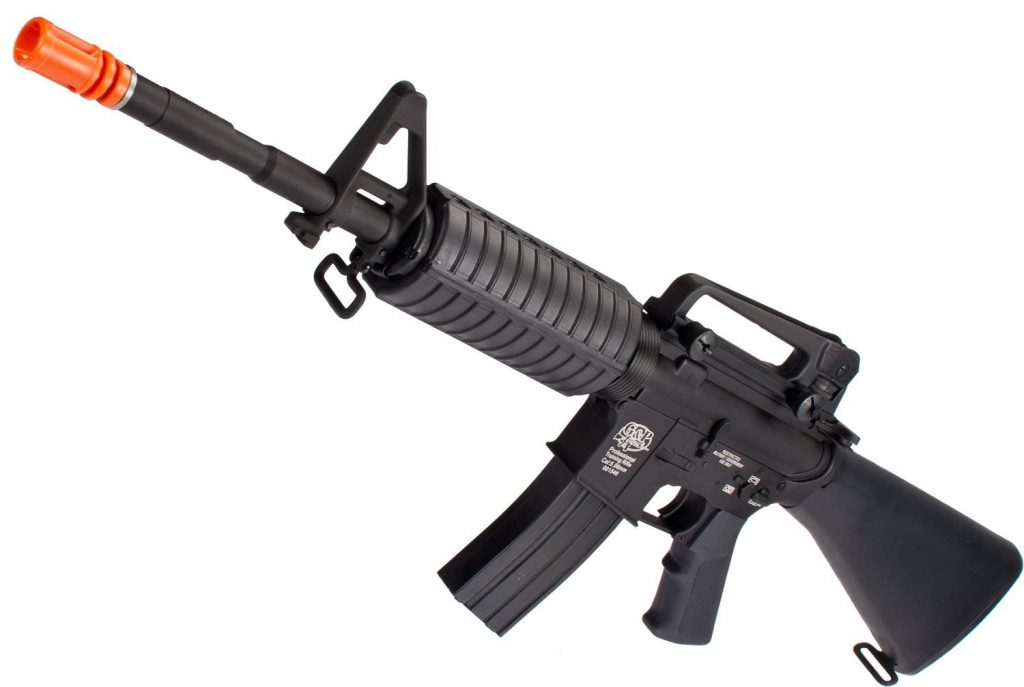 G&P has a wide collection of M4 style rifles, so I decided to include a second one in this brand review. This version is similar in weight, body, and design with the one discussed above, but it features an M16 non-collapsible stock (more space for bigger batteries) and doesn't have a front grip.
This M4 version comes with high-quality ABS handguard and grip, while the receiver is heavy duty metal. It also has a detachable carrying handle and front sights. The gearbox is also metallic, version 2 with reinforced internals and 7mm metal bushings. The muzzle velocity can reach 400 FPS and the rifle uses 7.4v LiPo batteries to power a G&P M120 motor. It features full, semi, and safety select fire modes and a 130 round metallic mid-cap magazine.
Overall, both rifles are powerful and reliable, featuring almost similar characteristics, so the choice stands in your design preferences.
Other AEGs
M14 DMR Custom Airsoft AEG Sniper Rifle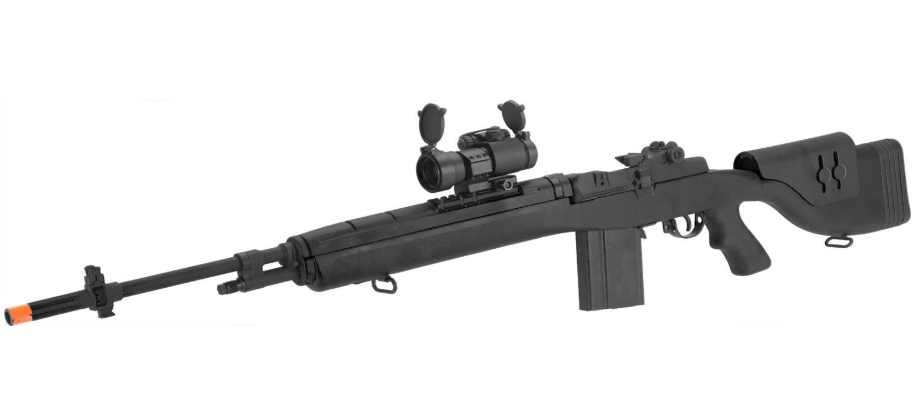 This bad boy sniper rifle is built to last, with an ABS stock, metallic receiver, and metal barrel assembly. The gearbox is a Version 7 reinforced, fully metallic, with 7mm Bushings (upgradeable) and powers a G&P M120 DMR high-speed motor. The motor can be powered by a 9.6v NiMH or 7.4v LiPo small type battery (recommended).
The rifle can reach long and mid-range targets, shooting at about 390 FPS while featuring a 500mm inner barrel. Overall, the M14 DMR is a rather heavy and long rifle so I wouldn't recommend it to beginners. Still, I like the fact that it allows for a full range of accessories and the fact that it features both semi and fully automatic firing modes.
G&P Metal AK47 Airsoft AEG Rifle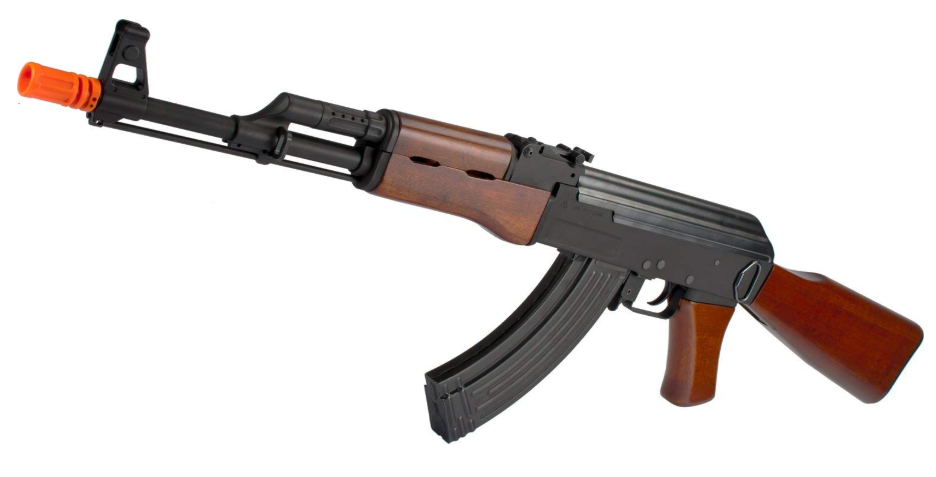 The AK47 is one of those airsoft weapons that will always be in fashion, so it's only natural that G&P has their own design. They decided to follow the standard model, but the novelty is represented by the real wood furniture (for handguard, stock, and pistol grip).
The rifle is astonishing and the heavy-duty barrel assembly and receive give it a healthy weight. The Version 3 metallic gearbox is upgradeable, and the rifle can fire at about 400 FPS. With a 150 rounds mid-cap magazine and adjustable front and rear sights, every player would be unstoppable with this version of the old AK47 in the field!
Shotguns
G&P M870 P.T.E. High Power Airsoft Shotgun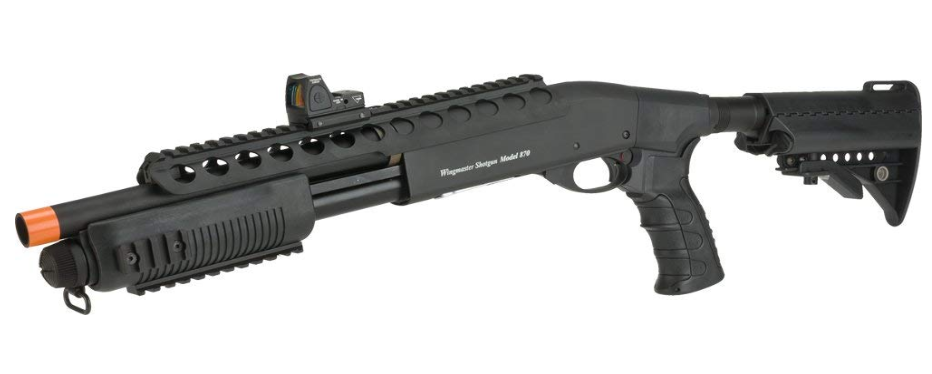 In my opinion, no collection of airsoft weapons is complete without one or two reliable shotguns! Apparently, G&P agrees because the M870 is one of the best-designed shotguns on the market (also, a replica of the real-world Maruzen 870).
With realistic weight and build, this bad boy comes with metallic receiver and barrel assembly, and high-quality ABS grip, handguard, and adjustable crane stock. I also love the top rail that allows for plenty of accessories.
The shotgun is powerful (about 420 FPS), accurate (adjustable hop-up), and supports a good range (about 100 feet). The M870 is powered by realistic pump action, which makes it the ideal sidearm. The magazine supports 22 rounds, and the shotgun only features single shot mode, in real-steal weapons fashion.