ICS: An Airsoft Brand that Doesn't Disappoint
Short for 'I Chih Shivan', the Taiwanese airsoft manufacturer ICS is one of the best airsoft gun brands in the world (after Tokyo Marui and Classic Army). The products signed by ICS are always of high-quality, full metal (in most cases) and durable, but the prices are quite affordable.

Considering these features, it's easy to understand why so many players would rather go for ICS than spend all their money on a high-end manufacturer like Tokyo Marui.
Still, the one thing you should worry about is the split gearbox (kind of an ICS thing) which makes these guns incompatible with other parts on the market. Still, the manufacturer is aware of this issue and tends to provide replacement parts and accessories with the guns they deliver.
Overall, ICS is a cherished airsoft brand and their guns are a good fit for both veterans and beginners.
Short History of ICS's Airsoft Guns
According to their site, they are the first Taiwanese manufacturer to ever produce AEGs. The company started in 1983, as a toy manufacturer (dolls, and toy air guns or gas pistols) and moved to war games as people's desire to find a pleasurable physical activity increased. ICS started producing AEGs in 1998 and they only got better at it with the passing of time.
Nowadays they aim to become market leaders in the airsoft field, with high-quality products at acceptable prices. For this, they collaborate with local distributors, wholesalers, and dealers to make sure they cover all the continents (with Europe, Asia, and America being the most covered).
Furthermore, ICS continuously invests in and improves their R&D department, which is how they come up with the split gearbox (which is an innovation in the world of airsoft).
Features that Made Them Famous
Given their desire to improve and refine, it's no surprise the fact that they are famous for their high-quality designs. AEGs produced by ICS are in high demand wherever you would go because they feature metallic elements, feel good in your hands, and look great.
Not to mention, the internals are well-designed, and an ICS gun is known to be durable in most airsoft field conditions.
Key Features
Full metallic bodies on most designs
Impressive AEGs
Good power and accuracy
Reliable and durable
Innovative design
Split gearbox
Looks and feels good on the field
Specialties
AEGs (several series)
Gas Blowback Pistols
Price Point
The price point varies according to the type of airsoft weapon and series. For instance, their GBB pistols tend to be around $100 while the AEGs usually start at around $170 and can go up to $400+.
Impressive ICS Products
As I already mentioned, this manufacturer is well-known all over the world for their impressive airsoft weapons, so they have a lot of products on their list. Given this, I'll only mention the ones that are extremely popular with airsoft players and that have proven their worth in time.
Pistols and More
ICS BLE-XAE Gas Blowback Airsoft Pistol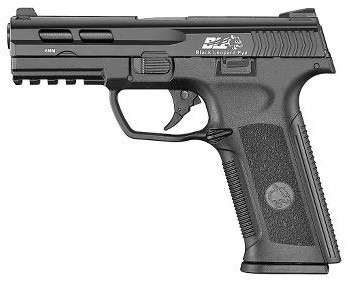 I find this pistol from the BLE-XAE series to be a fantastic sidearm for both outdoor and indoor airsoft games. The pistol feels good in your hand and it has some real blowback action into it. It also looks badass enough to be intimidating, with full metal barrel and slide, and a RIS keymod rail under the barrel (for accessories).
Overall, the pistol is powerful (295 FPS), reliable, and was designed to be used in various weather conditions (the grip and slide work to increase your grip). It also has an adjustable hop-up and the semi-auto design doesn't require cocking back the hammer – the pistol will shoot as fast as you can pull the trigger.
ICS-190 GLM Airsoft Grenade Launcher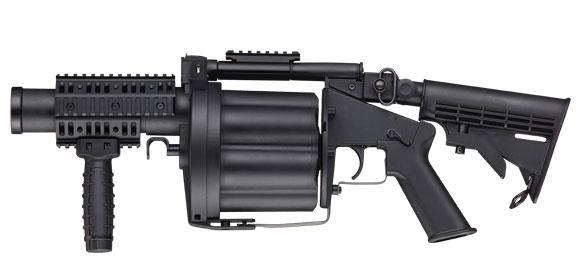 As I already specified above, ICS is a sucker for innovation, and their efforts are neatly seen in this jaw-dropping grenade launcher. Besides the fact that it actually launches airsoft grenades, this bad boy looks and feels fantastic when you use it. It's also hella intimidating and anyone who'll see you on the field carrying this may want to back off.
To make it easy to use, the stock is adjustable, and the body is made of industrial strength ABS plastic. It shoots 6 grenades at a time and uses a spring-powered revolver system, which makes the gun useful regardless of environmental conditions.
The ICS-190 GLM grenade launcher features a side-swing loading system and has a safety lever.
AEGs
ICS CXP-APE KEYMOD ACR CQB Style Airsoft Rifle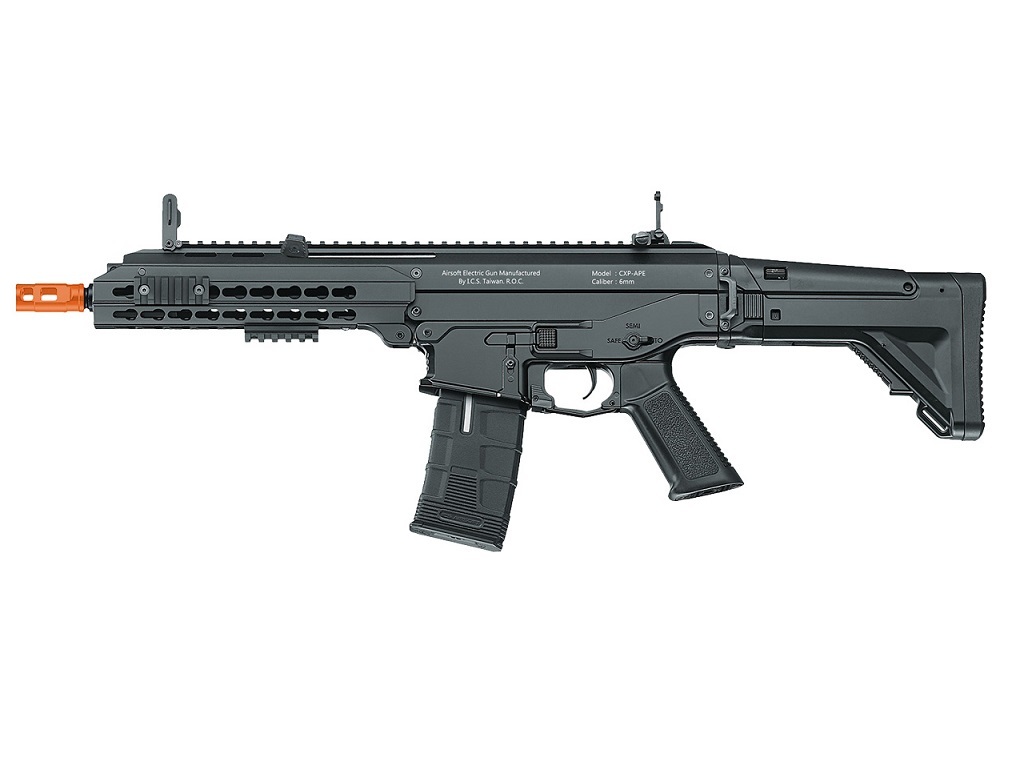 A full-metal body, a CNC machined keymod rail system for accessories, and three rail sections – overall, this version of the ACR rifle is a fantastic choice for someone looking to up their game in CQB scenarios.
At the base, the ICS CXP-APE ACR rifle uses a standard M4 platform, but adds a charging handle, ambidextrous mag release, and fire selectors so anyone can use it. The SF1 stock folds or extends (according to your needs) and the rifle comes with an ICS Version 2 gearbox with a split design. This means that the gears are separated from the spring and piston, which makes it easy to modify and maintain the rifle.
The rifle is powerful (390 – 400 FPS), accurate, and uses stick style LiPO batteries (not included). I also like the electric blowback system that makes the rifle feel a little closer to reality. Finally, the 300 BB high-cap magazine makes it clear why this rifle is so popular!
ICS M4 CQB RIS AEG Airsoft Rifle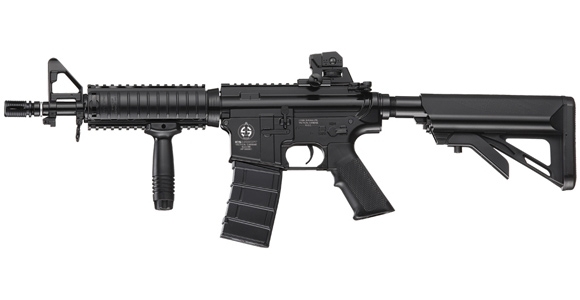 If you're looking for the perfect CQB rifle this might be just it! The M4 version from ICS is powerful (360 FPS), durable, and has good internals (full metal gearbox with steel gears). I like the retractable stock and tactical foregrip that allow full control of the rifle in various circumstances. Also, the full RIS is great for adding accessories while the 400 round magazine is impressive.
The rifle gas full, semi, and safe modes, and works with MC-129 and ERBAT36 batteries (not included).
ICS TRANSFORM4 Electric Blowback Airsoft Rifle

The ICS Transform4 is part of the latest innovations devised by ICS. The rifle comes with a new and improved blowback system that stems from the split gearbox that is unique to ICS airsoft guns. So, when you fire this AEG, you get some pushback, which makes the entire action seem a lot more real.
The Transform4 is a full-metal design with cool new features aimed towards durability. It's also equipped with an ICS MTR stock, which is adjustable to six positions, making it easy to use in CQB scenarios. The magazine can be adjusted to support high, medium, and low capacity options and has a side window, so the user can see how much ammo is left.
I love the ICX CXP style flip up sights and the CXP-UK1 Key Mod rail system (designed following the same specs as for real firearms)! These features make this EBB look and feel like a real weapon!
ICS COMMANDO SIG 552 Long-Barreled Dark Earth Airsoft Rifle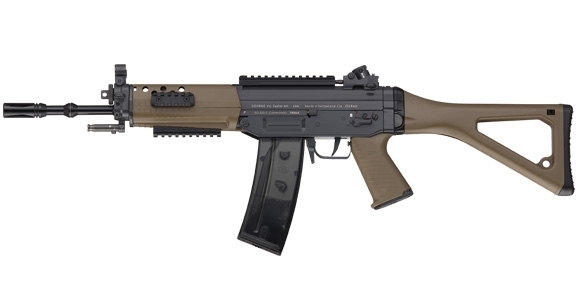 With an original Swiss Arms License and a full metal body, the SIG 552 SWAT is a great ally in the field! It looks and feels tough, it works impeccably, and it is powerful (390+ FPS) from all aspects.
The stock is foldable, which makes it great for all types of situations, and the butt plate is rubberized – great for stability and accuracy. I also like the rail system and the large magazine (450 rounds), but you shouldn't forget about the flip up front sights which are adjustable (as is the hop-up)!
The rifle has three firing modes (full, semi, and safety) and the trigger guard allows plenty of space to use it with gloves. Overall, ICS managed to create a fantastic replica of this rifle's real steel version, the SG-552 made by Swiss Arms.
ICS GALIL ARM Electric Airsoft Rifle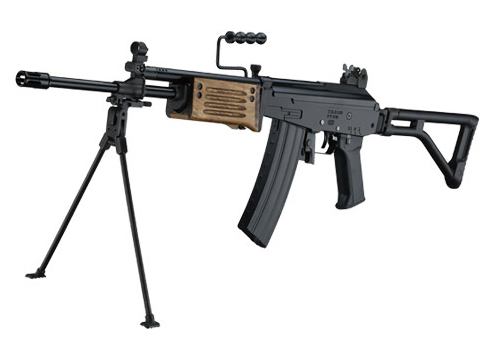 If you're looking for a unique design that gets as close as possible to a realistic rifle, the ICS GALIL ARM is a fantastic choice!
With a full-metal body, a foldable stock, and plenty of power (380 – 410 FPS) this badass AEG packs a lot of style. The high-cap magazine (450 rounds) and the Version 3 gearbox with steel gear make it a redoubtable enemy on the field. Not to mention, the GALIL ARM rifle has the impressive rate of fire of 850 rounds per minute (it can fire in full or semi-automatic modes)!
ICS CXP QD4 AEG RIS Sportline Airsoft Rifle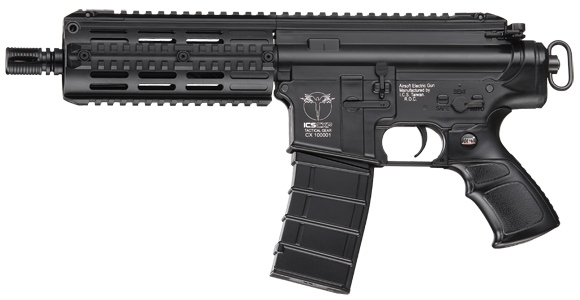 If it's one thing I like and fully appreciate about ICS is that they offer options for everybody! For instance, if you're the kind of player who likes a compact AEG, you have the ICS CXP QD4 rifle. It's lightweight, durable, and it can be used with one hand (should the situation arrive). It's a gorgeous CQB airsoft weapon and comes with a 400-round high-cap magazine!
It also has a full metal gearbox and can shoot at 380 FPS in full or semi-auto mode. So, if you want, you can feel like a badass gangster on the field!