Best Cheap Airsoft Guns – 2022's Buying Guide for Budget Friendly Guns
Are you passionate about airsoft but your budget doesn't allow you access to high-end weapons? Don't worry about it; many beginners are in your position all over the world. To help you guys out, I've created a list of the best cheap airsoft guns that still bring quality and reliability, in spite of their low cost.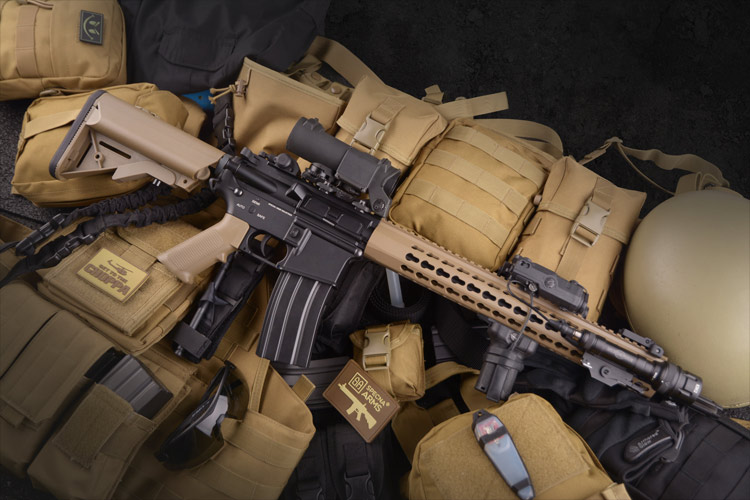 Which are the Best Cheap Airsoft Guns?
The solution is to know how to find good weapons that fit your budget. I know it sounds more like a unicorn hunt, but have a look at the guide I put together for you. The weapons below are of good quality and would make even some advanced players happy.
In my guide, I selected weapons that fit any budget in the range of $25 to $200, so you can have your pick. If you're in a hurry, the table below shows my 3 favorite pistols for various price ranges.

| Elite Force 1911 Pistol | Umarex Walther P99 | Combat Zone Enforcer |
| --- | --- | --- |
| Popular 1911 CO2 blowback pistol | Made famous by the James Bond movies | Small and lightweight CO2 pistol |
| | | |
| | | |
Best Guns Under $200
For this category, I selected the top three guns in the $100 – $200 price range that you should try.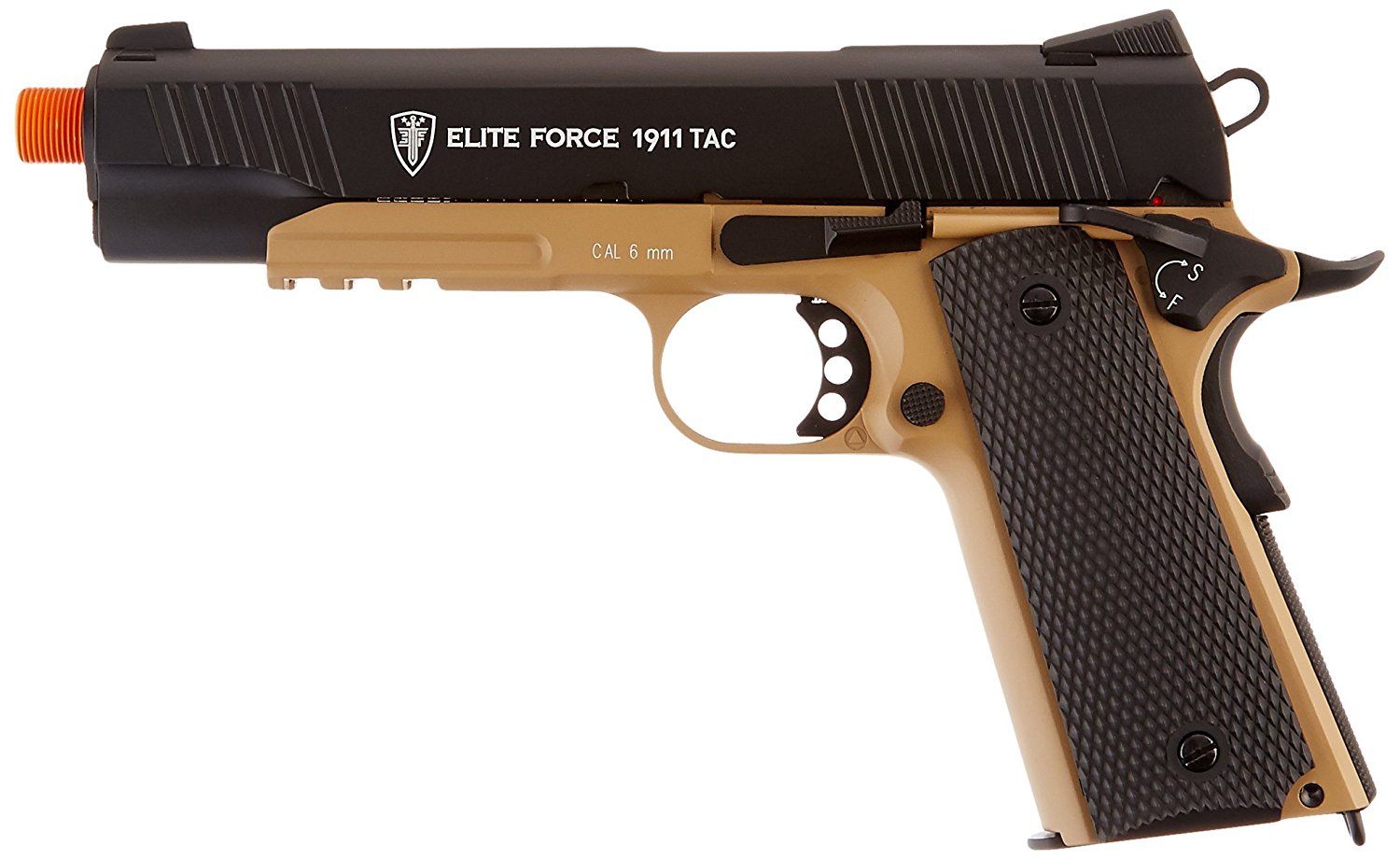 Type: CO2 Blowback
Power: 345-370 FPS
Magazine: 14 rounds CO2
BBs: 0.20g
I couldn't have done a top 'best airsoft guns under $200' without including a cool backup pistol, could I? The Elite Force 1911 Tac is a fantastic addition to your arsenal and I recommend it to anyone looking to have a more realistic shooting experience.
The pistol is full-metal so you can imagine it is pretty heavy, but it feels amazing in your hand. I'm not too crazy about the grip – it has some texture, but the front side is straight. Still, it feels comfortable in your hand and you have easy access to the ambidextrous controls.
I like the 14mm CCW threaded barrel tip as it allows you to add a suppressor and the fact that the barrel follows the 6mm standard. I use it with .20g BBs and the accuracy and power are amazing. For improved accuracy, the pistol is equipped with white dotted front and rear sights and an adjustable Hop-up system. Also, the powerful recoil spring makes every shot feel amazing!  
In terms of design, the pistol comes in several variations of color (black, grey, stainless, and black/ dark earth brown) and has authentic Elite Force 1911 trademarks engraved on each side of the barrel. It also allows for accessories to be added due to the bottom rail.
Finally, the pistol is effective in a 10 to 90 feet range and comes with a 14 rounds CO2 magazine. In my opinion, this is a solid backup airsoft gun, with a solid build, that will offer you some amazing moments on the field!
Pros
Full metal body and good weight

Great accuracy and range

6mm barrel, .20g BBs

Adjustable Hop-up and powerful recoil spring

Solid build
Cons
Not effective in cold weather

Doesn't come with a CO2 cartridge

Powerful blowback (problematic for beginners)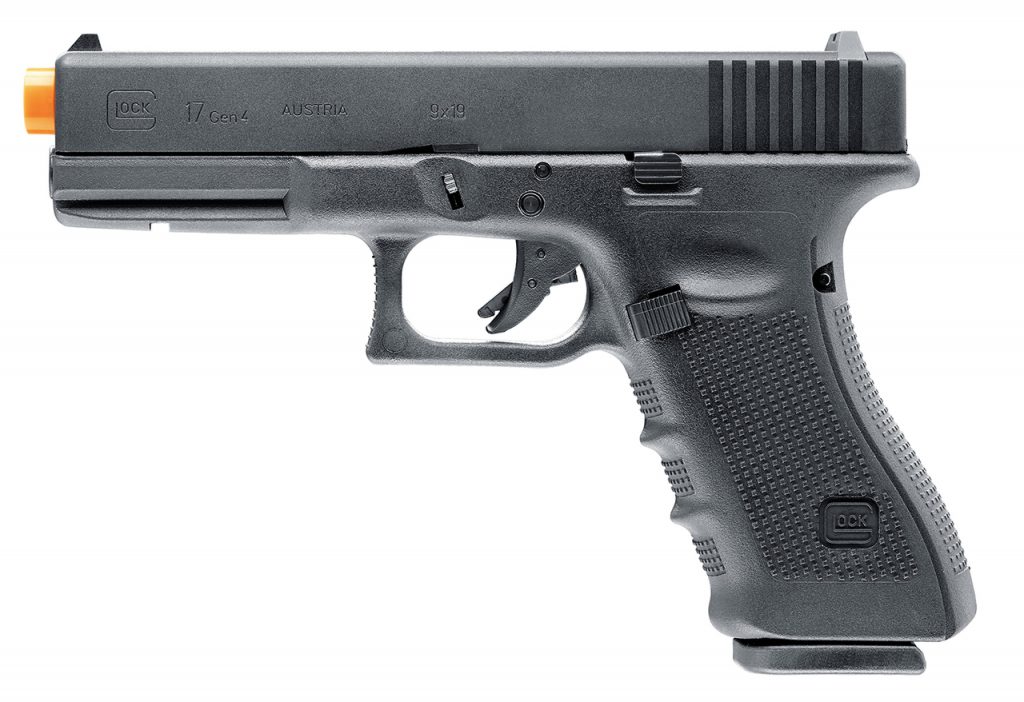 Type: Gas Blowback (green gas or propane)
Power: 300 FPS
Magazine: 20 rounds metallic mag
BBs: 0.20g
This gun looks and feels amazing in your hands since it is a realistic replica of the real-steel design. Moreover, it comes with authentic Glock trademarks, which make it even more impressive. 
The Gen 4 G17 Glock comes with a very comfortable grip that fits well in most player's hands and ensures the pistol won't slip away from your hands. Next, the slide release is easy to operate and the slider moves back with every shot you take, creating a strong blowback effect.
Under the barrel, you'll find an accessory rail that allows for a flashlight or a laser, to improve your aim and visibility. 
Overall the G17 pistol is a nice addition to any player's collection since it is durable (due to the metallic elements) and can shoot in semi-automatic mode. 
Pros
Metal slide that's smooth 

Full-sized metallic magazine (20 rounds) 

Small accessory rail underneath the barrel

It works with Green Gas and propane

Realistic blowback action
Cons
Blowback action may not be best for beginners

The performance can be affected by ambient temperature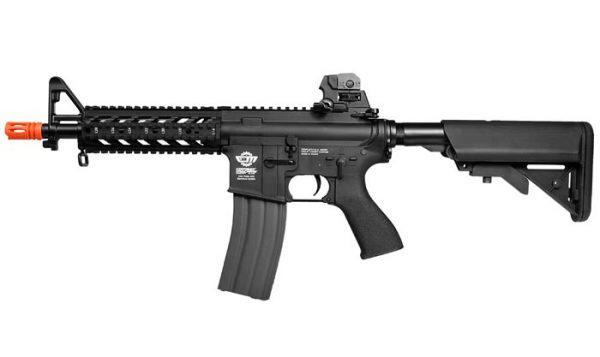 Type: AEG
Power: 350 FPS
Magazine: 450 rds
BBs: 0.20g
If you're looking for a high-quality AEG that will support your CQB efforts, the CM16 Raider is a fantastic option! 
Starting from the barrel and moving back to the collapsible crane stock (that also houses the battery), this rifle is built on a nylon-composite polymer frame with a metallic barrel assembly. As a result, the AEG is lightweight, easy to maneuver, and durable. The high-capacity metallic magazine (450 rounds), large trigger guard and comfortable pistol grip are also features that promote this rifle to both beginners and advanced players. 
Lastly, the CM16 rifle can be improved by using the 7-inch free-float handguard fitted with 20mm Picatinny rail sections on the sides and one full-length rail at the top.
Pros
Easy to use in skirmishes

There is plenty of space for accessories

The magazine is large 

It shoots in semi and full-auto firing modes

Adjustable hop-up unit

It's a fantastic rifle for the money
Cons
Firing mode and safety selector are not ambidextrous

The front triangle sight is fixed

The barrel and hop-up should be upgraded

Type: AEG
Power: 380 FPS
Magazine: 600 rds
BBs: 0.20g
Designed for CQB action, the CM028 AK47 features metallic internals with a polymer build (the faux-wood areas and some of the elements) and metallic barrel assembly. As a result, the rifle feels nice in your hands and it is easy to move with it on the field. 
The rifle supports both semi and full-auto firing modes and comes with a nice high-capacity magazine that can hold up to 600 BBs. Furthermore, the entire action is smooth and everything sounds nice due to the metal bushings and gears in the gearbox. 
While it may not promote the best-looking body (some of the elements are easily scratchable), this rifle comes with plenty of cool features. Overall, you get a lot of bang for your buck!
Pros
Metallic barrel assembly

The inner barrel is longer than usual for increased accuracy

High-capacity magazine that can hold up to 600 BBs

Adjustable hop-up unit

Supports semi and full-auto modes

Great value for the money

It comes with battery and charger
Cons
The sling mounts are a bit flimsy

The body scratches easily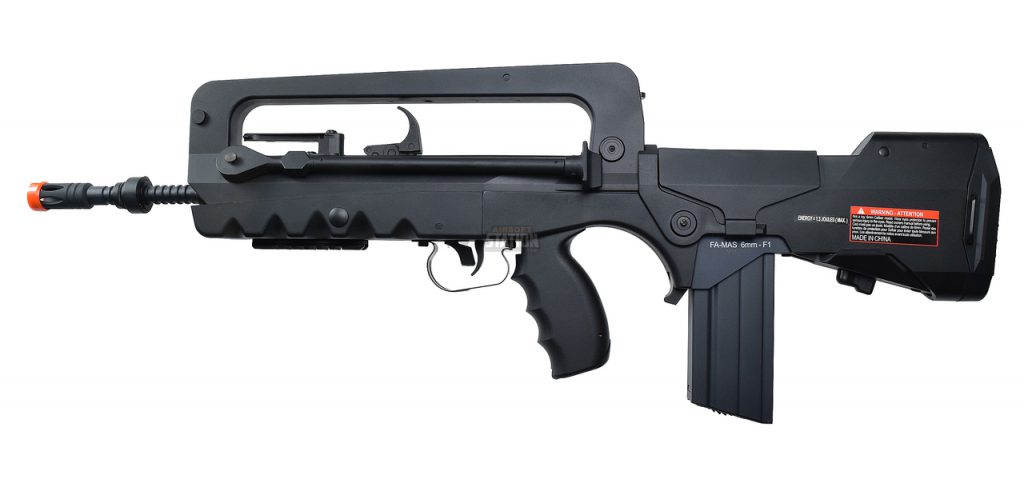 Type: AEG
Power: 385 FPS
Magazine: 300 rds
BBs: 0.20g
If you're new to bullpup designs, you'll be impressed by the level of accuracy this rifle is capable of delivering in both skirmishes and long-range shooting. Moreover, while it may look a bit bulky, it is lightweight and very easy to maneuver on the field. 
The bullpup build allowed the producer to use a long inner barrel (475mm) in the body of a CQB rifle, which is why the FAMAS is so versatile and popular. The 300 round metallic magazine and the fact that it can shoot in semi and full-auto modes are also interesting features that raise the rifle's value. 
Lastly, the FAMAS is lightweight (around 6.3 lbs) even though it has a metallic barrel assembly and an accessory rail that lets players add their favorite optics or red dot sights. Of course, you can always use the included multi-option front and rear sights (which are adjustable) and use the rail for other accessories. Overall, this is the ideal rifle for beginners who want to test the waters with airsoft and identify the best-fitting role for them.
Pros
Bullpup design 

650-750 BBs per minute ROF

Accurate at long-range and CQB

Upgradeable metallic Version 1 gearbox 

Adjustable hop-up unit

Ambidextrous Fire Selector

Included frontal bipod
Cons
The battery is rather difficult to install

The polymer body doesn't hold too well at drops

The mag needs to be spun after every 20-30 shots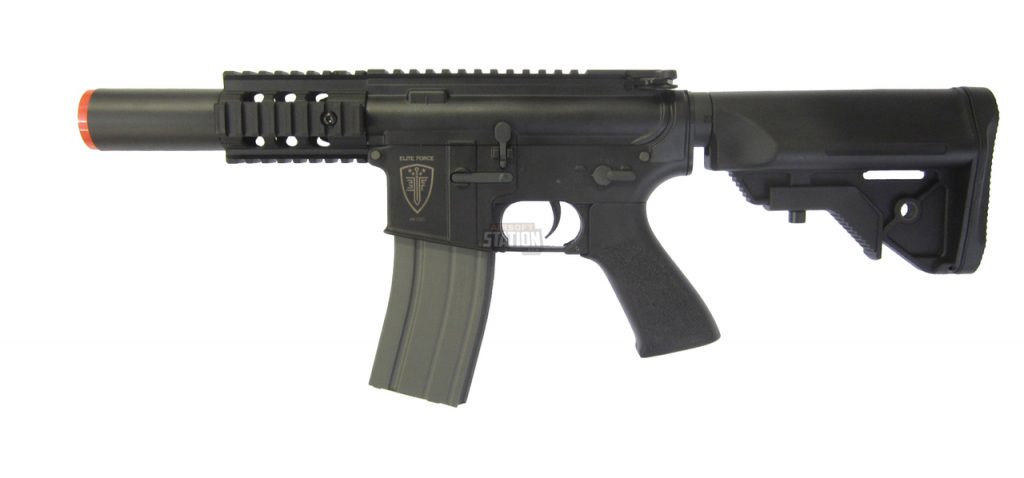 Type: AEG
Power: 300 – 330 FPS
Magazine: 300 rds
BBs: 0.20g
If you're looking for a cool-looking rifle that works in any CQB scenario, this M4 rifle from Elite Force may just be the right one! With a 7th generation M4 design and a polymer boy, the gun is lightweight and easy to maneuver in tight spots but feels great in your hands due to the solid build. The controls are easy to reach with your thumb and the gun features two fire modes (semi and full auto).
I love the handguard and rail system (there are actually 4 rails) that allow for more accessories (a scope and bipod, for instance) and the pistol grip is solid enough for both adult and young players. The cool thing is that you can upgrade it to a better version by replacing the gearbox, motor, hop-up, and even barrel. But for now, you get upgraded steel gears, which is quite nice.
The 7.4v or a 9.v LiPo battery is housed in the stock (it's quite easy to reach), and powers a motor that allows for 330 FPS  with a solid range (with 0.20g BBs).  
Finally, I like the six-positions adjustable crane stock and the large magazine that lets you shoot without stopping. 
Pros
Good accuracy and range

ABS body

Can be upgraded

Easy to hold due to the handguard and pistol grip

Allows a wide range of accessories
Cons
Not for MilSim situations

Internals are not extremely durable
Best Guns under $100
If your budget doesn't cover anything over $100, there are still some good guns to try.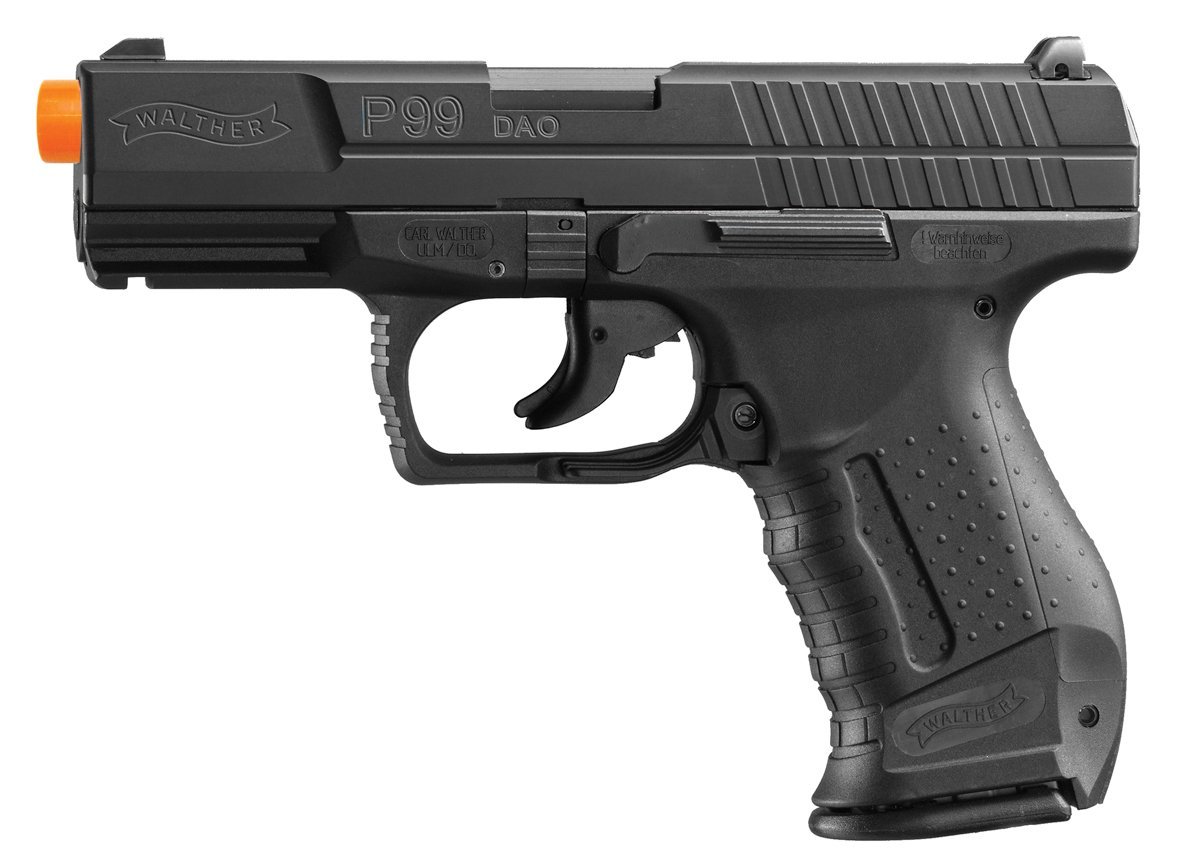 Type: CO2 Blowback
Power: 380 FPS
Magazine: 15 rds
BBs: 0.20g
I love this bad boy for the many cool features it brings at such a price! The Walther P99 Blowback CO2 is equipped with a metal slide and, due to a powerful spring, the recoil is quite realistic. Not to mention, the gun is a full-size replica of the Walther P99, which is used by both law enforcement agencies and civilians all around the world.
The airsoft pistol is fully licensed and the trademarks are authentic and impress a very nice look on the design. The grip is rubberized and the texture is specially designed to allow the gun to rest firmly in your hand when you're firing (with or without a glove).
The cool thing is that, once you cock the slider once, you don't have to do it again until the next magazine load. This gives the pistol the capacity to fire in a rapid, semi-automatic fashion, which could save you a life on the field.
I wouldn't recommend the Walther P99 to a beginner because the blowback is powerful and it can throw off your aim if you're not prepared for it. The pistol only holds 15 BBs at a time, but the magazine is easy to reload and access (it's a paddle-style mag). Also, the CO2 is nicely hidden in the grip so you won't be bothered while reloading. I like that it doesn't leak gas after you load your CO2 container (most guns that use the same loading method, do).
Pros
Good accuracy and range (for a handgun)

Powerful blowback

Metal slider

Shoots .20g BBs

Gas doesn't leak after reload

Doesn't eat too much gas
Cons
The slider may lock back from time to time

The cartridge is a bit difficult to change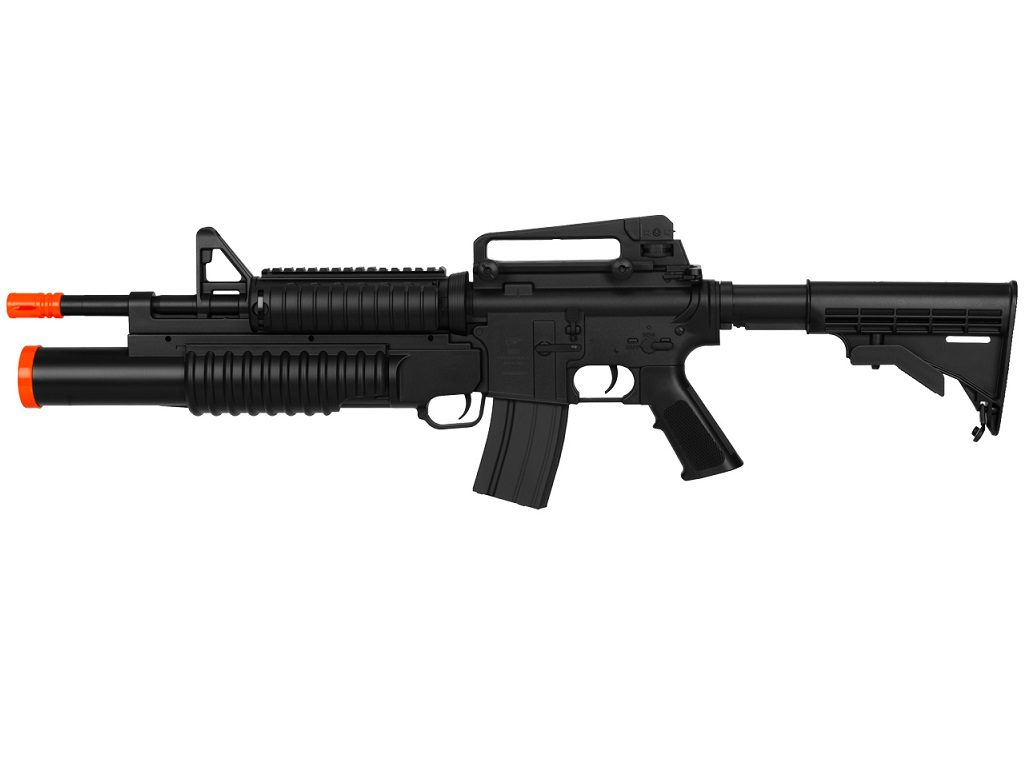 Type: AEG
Power: 320 FPS
Magazine: 240 rds
BBs: 0.20g
Are you looking for something impressive, powerful, and in your budget? This impressive shotgun from Double Eagle is a great choice (I have more options in my best airsoft shotgun guide so make sure to check it out)! It is lightweight, due to the polymer body, but durable and easy to handle in CQB situations. It's important to mention that, while this is an AEG rifle, the tri-shot launcher underneath the barrel is spring-powered. So, you're working with two feeding systems: the 240 rds magazine and the shotgun shell style detachable magazine. 
The retractable stock is wide and fits well against your shoulder (the buttstock is rubberized) and you also get a comfortable pistol grip for more control. The rifle shoots in semi and full-auto modes and has a removable carry handle that covers a RIS rail section where optics can be installed. I also like the trigger guard as it offers plenty of space for gloves and the fact that you can adjust the length of the rifle using the stock. In terms of performance, the gun is accurate, but you can adjust the BB's trajectory using the Hop-Up. 
Pros
Nice length and feel

Spring-powered tri-shot launcher

Accurate and powerful

Easy to reload

Impressive design
Cons
Runs through BBs quite fast

The combination of AEG and spring can be a bit too much for a beginner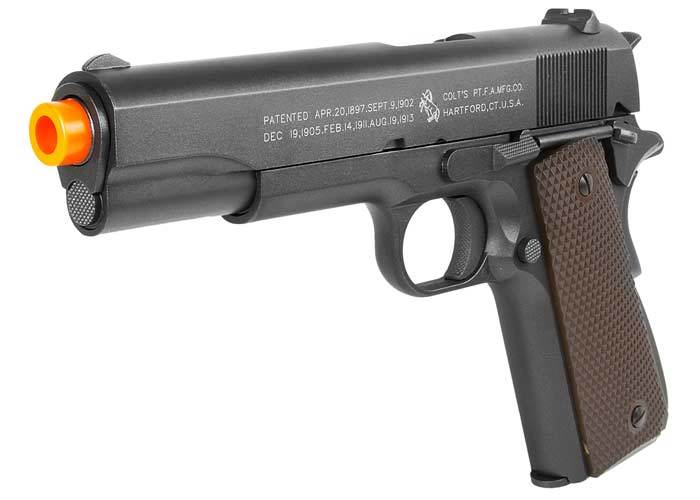 Type: CO2 Blowback
Power: 350 FPS
Magazine: 17 rds
BBs: 0.20g
This is a beautiful CO2 pistol with a metallic body and a smooth-functioning slider. The pistol is created to perfectly imitate the real-steel 1911, so it does feel almost like you would hold a real pistol in your hands. In addition, the serrations on the slider and the texturized polymer grip make it easier to hold and use the pistol even in not-so-ideal weather conditions. Furthermore, the large trigger guard lets you shoot it with gloves. 
Still, you need to remember that this is a CO2 blowback design, so there is a pretty punchy recoil with each BB you shoot. Luckily, the adjustable BAXS hop-up unit makes it easier to set the trajectory of the BB and keep the pistol accurate. Moreover, since this is a semi-automatic design, you are in full control of the rate of fire.  
Lastly, this version of Colt 1911 comes with a 17 rounds magazine that also houses the gas container and a 20mm accessory rail under the barrel for a flashlight or a laser. As such, the Colt 1911 is a fantastic pistol for target practice in your backyard or as a sidearm!
Pros
It has a healthy weight

Serrated slider and polymer texturized grip

Beautiful design

Semi-automatic firing mode

17 rounds magazine

Iron sights at the top of the barrel

Integrated adjustable BAXS hop-up unit
Cons
The blowback action is punchy

Its performance is influenced by cold weather

Type: AEG
Power: 350 FPS
Magazine: 450 rds
BBs: 0.20g
The M900E AK-47 is the perfect AEG rifle for the beginner player. It features a polymer body (so it's lightweight and durable) and the standard AK design that's well-known in the airsoft community. The rifle comes with a standard AK-47 polymer magazine that can hold up to 450 BBs and supports the two firing modes: semi and full-auto. 
Moreover, to increase its efficiency in the field, especially during skirmishes the stock and the foregrip are foldable. Also, the grip is comfortable and easy to hold onto it even if you're wearing gloves.  
Lastly, the rifle comes with a built-in polymer RIS system that lets users mount multiple accessories such as optics, flashlights, or red dot sights. Of course, you can always use the sights that are already on the rifle (a fixed front one and adjustable rear one) and improve your aim by using other accessories. 
Pros
Standard AK-47 design

Polymer body and magazine

Lightweight and compact body design

Integrated RIS system for accessories

High-capacity magazine

Perfect for CQB and beginners
Cons
It's not very durable due to the polymer build

The front sight is fixed to the barrel
Best Airsoft Guns Under $50
Finally, if your budget is on the low end and you are just testing the waters, you can get a gun that's under $50. Now, while these are perfectly fine for the budget, it's important to understand you can't expect them to behave like a high-end weapon.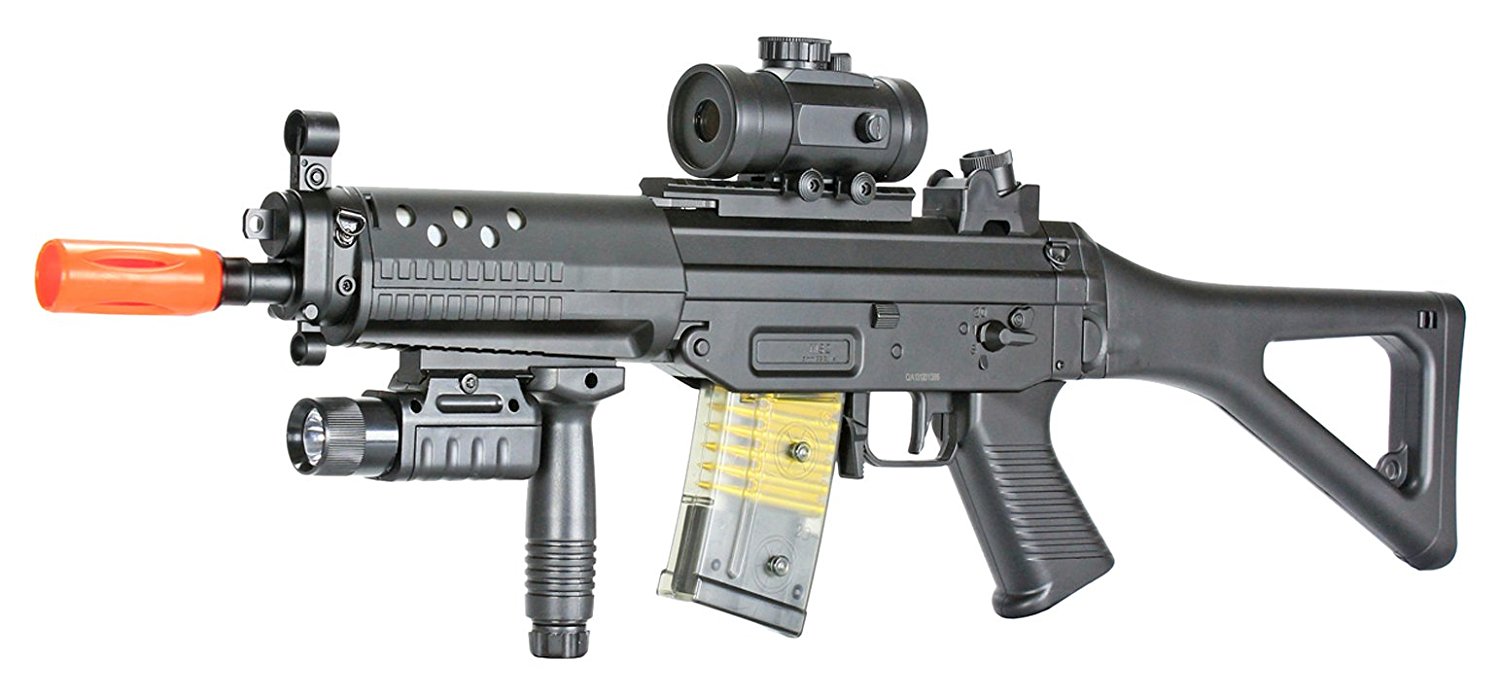 Type: AEG
Power: 200-250 FPS
Magazine: 45 rds
BBs: 0.20g
Who said you can't get a nice replica of a real steel version in under $100? The M82 ELECTRIC AIRSOFT SIG 552  is a full-scale replica of the SG 552 that works with 6mm BBs and shoots at a safe speed. Even more, the rifle is delivered with electric red-dot sights, flashlight, and tactical accessories. The accessories can be mounted on the two available rails (top and bottom), and the gun is easy to hold in different situations.
The body is ABS plastic, but it's durable and lightweight so both beginners and advanced players can have some fun. The build is solid and the gun feels good in your hands, with or without gloves. I also like the transparent clip that holds 45 BBs and is easy to reload at any time – in the true spirit of a machine gun.
The M82 is specially designed to adapt to any CQB situation as it is compact and the stock is easily collapsible. Also, you can easily access the controls (fire selector that makes the switch between full and semi-auto), if you are right-handed. I like that you can easily replace the orange flash hider with a suppressor and that it is quite noisy due to the NiCad battery.
In terms of performance, the BT-M82 is not the most powerful on the market, but it does have a high 350-400 round rate of fire. Still, you have to consider the fact that it's only effective for close-to-medium range. At the end of the day, the M82 ELECTRIC AIRSOFT SIG 552 looks cool but I wouldn't recommend it to an experienced player. It's great for beginners though!
Pros
Comes with plenty of tactical accessories

It is easy to hold in a CQB scenario

Lightweight and solid body

Good rate of fire
Cons
Not very powerful

Only for close-to-medium range

Mostly for beginners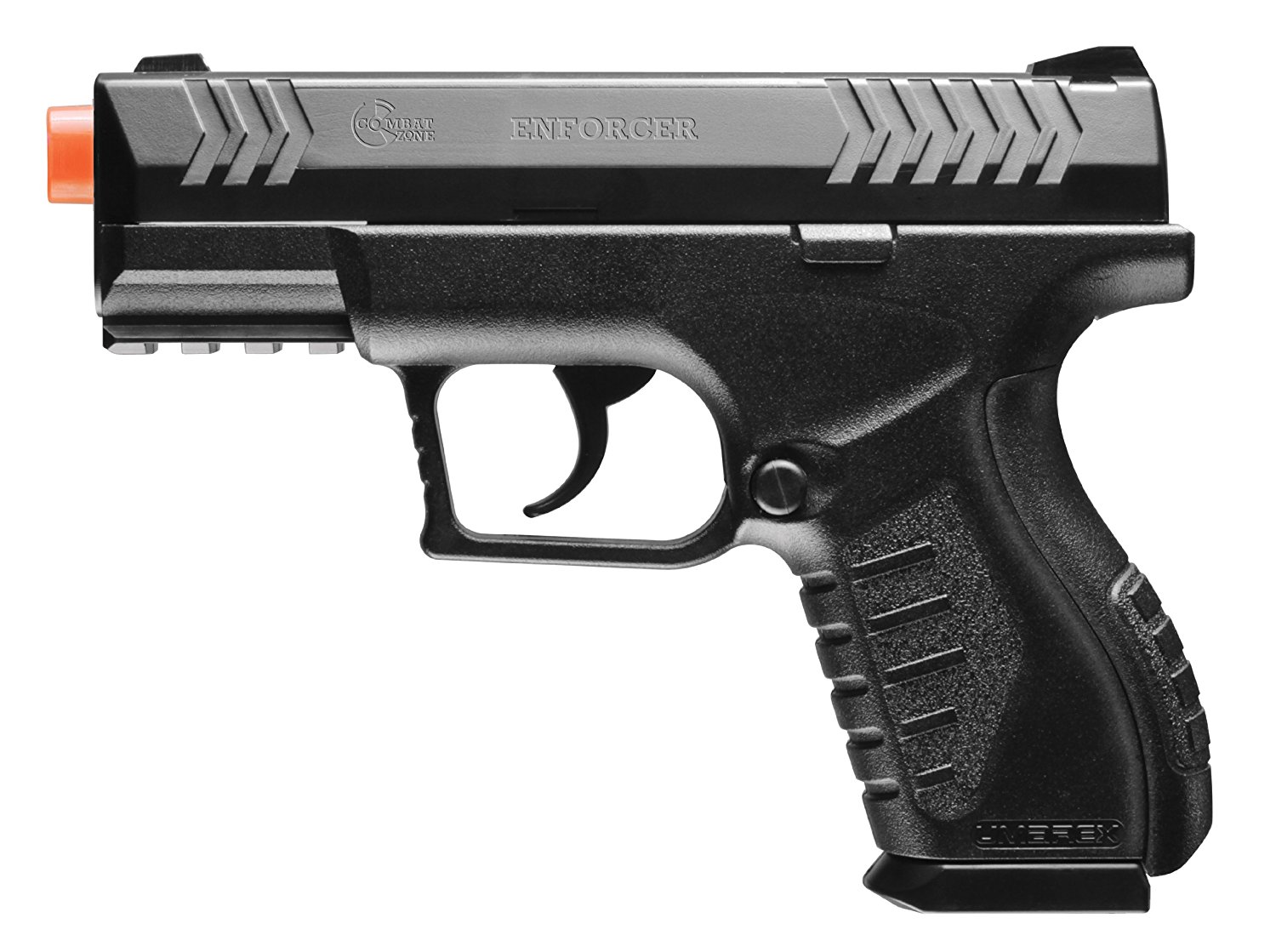 Type: CO2
Power:  400 FPS
Magazine: 15 rds
BBs: 0.20g
Given the ABS body and the size, you can imagine this is a lightweight pistol which can be a bit weird at first if you're used to metallic airsoft guns. I like the textured grip, the large trigger guard and the small rail that allows you to fit a flashlight or a laser at the bottom of the barrel. In addition, the pistol is quite accurate, and you have front and rear sights to help out if you're a novice. The front one is a white dot sight, to make things easier.
I like that it doesn't consume too much gas – this little guy can get 200 rounds out before you'd have to change the CO2 cartridge, but this is possible because the blowback element is missing. Speaking of the cartridge, it is housed in the grip, which pops open to give easy access. You'll find that the magazine is metallic and easy to remove, reload, and get back in the game (it holds 15 BBs per load). It's also recommended to use RWS Chamber Lube on the tip of the CO2 cartridge to keep internal mechanisms running smooth, so make sure to keep it in mind.
Overall, this is a simple pistol, without too much fuss and fluff, designed to fit most airsoft settings, and easy to carry around.
Pros
Compact design

Lightweight, but solid body

Metallic magazine

Easy access to the CO2 cartridge

Powerful and accurate

Doesn't consume too much gas

It is durable and resists the elements
Cons
Quite Small

No blowback action

Extra magazines are overpriced

Type: AEG
Power: 200 FPS
Magazine: 500 rds
BBs: 0.20g
The F4-D is an impressive entry-level AEG with a powerful visual impact. Since it is built on the M4 platform, it is reliable and features a collapsible crane stock, which makes it great for various skirmishes and action on the field. Moreover, in the package, you'll find several tactical accessories that can be mounted on the full-length Picatinny rail system at the top. These accessories can help with improved accuracy and overall performance, which is ideal for beginner players. 
Lastly, the rifle is designed with an adjustable hop-up unit and a fixed front sight, which also helps improve the accuracy. 
Pros
Impressive visual aspect

It shoots at 200 FPS with 0.12g BBs

Adjustable stock with rubberized butt plate

Shoots in full auto mode

Comes with several tactical accessories

Great value for the money
Cons
It is rather low-power

The included accessories are not the best

The body is not very durable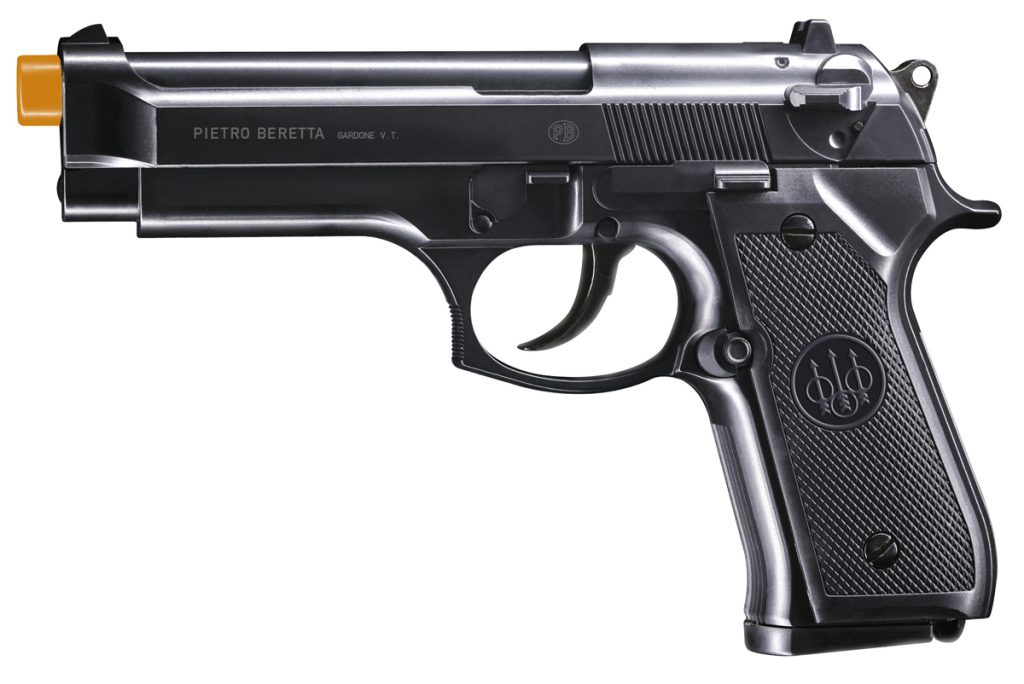 Type: Spring
Power:  150 FPS
Magazine: 12 rds
BBs: 0.12g
Spring guns are among the cheapest on the market because they implement a simple build and don't require too many fancy elements to perform admirably. As such, this Beretta 92 spring-powered single-action pistol makes for the perfect sidearm when you're on a budget. While it may not be extremely powerful, it is a full-size design which means it can be holstered. In addition, it features a texturized pistol grip, a large enough trigger guard for use with gloves on, iron sights, and it has Beretta logo and trademarks applied on the grip and slider.
Lastly, the Beretta 92 FS pistol is equipped with a drop-free magazine that can hold up to 12 rounds and accurately shoots using .12g BBs.
Pros
Nice, sturdy body

Good accuracy

Easy to use

Iron sights
Cons
It is very lightweight

Very basic design
Best Overall – Cheap but Good Gun 
All the guns I mentioned above are great for their budget, but if I was to choose just one weapon, I would go with the Elite Force 1911 Tac pistol. The fact that it's full-metal and features a powerful blowback action makes it my favorite on this list. I also like the design (leaving certain aspects aside) and the performance it can offer on the field as a backup airsoft gun.
Now that you know my opinion, which one would you choose as the best overall weapon on this list?
Shop Airsoft Guns
For an even wider selection of guns at different price levels, check out our huge selection of airsoft guns via our store. Also, if you're only looking for a sidearm, make sure to check our guide for the best airsoft pistols (most pieces have great features at incredibly affordable prices).
Take it to the next level
If you're looking to step up your game and have a larger budget available, check out our guide on the best airsoft guns (money being no object) – there's some seriously top-level weaponry in there! 
Photo credit for lead image: Photo by Specna Arms from Pexels